Our winemaker Sam Coverdale is proud to present a wine dinner alongside Keppell Smith, of Savaterre wines. The dinner is based on a similar philosophy between both winemakers in regards to their viticultural and wine making practices. Join us Friday 28th August to meet the winemakers and taste some excellent wines accompanied by a 3 course meal.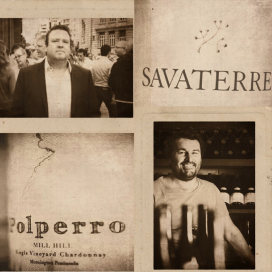 About Savaterre 
The Savaterre vineyard is based in Beechworth on a phenomenal winemaking site, which is farmed organically. Since 1996, Kep has been intensely focused on the creation of outstanding, individualistic wines far removed from the mainstream. Drawing inspiration from the wines, winemaking and viticulture of the Old World, Kep combines the art and the science of winemaking in his drive to produce the finest of wines. His clever use of natural yeasts and French barriques certainly make for interesting and enjoyable wines. Savaterre wines are served in the world's best restaurants and has been a regularly served on First Class flights with both Qantas and Emirates.
About Polperro
Sam Coverdale is the owner and winemaker of Polperro which is his premium, single vineyard label, made from our vineyards situated on the Mornington Peninsula. Sam is strongly influenced from his time making wine in Europe and like Kep, is involved in all aspects of winegrowing and winemaking. Both use a mix of traditional and modern practices that ensure minimal intervention and a sustainable approach. Sam has chosen to solely focus on the Mill Hill vineyard for this wine dinner, a very unique site on the Peninsula which has recently received a great write up by Max Allen.
For those anticipating the release of the 2013 Polperro "Mill Hill" Pinot Noir, this dinner will be the first opportunity to sample the wine before it is released.
Dinner & Matched wines, $95.00 per person, includes a tasting of 6 wines and a 3 course meal.
Book online or phone (03) 5989 2471. Seats are limited.