In Spain they have a saying; barriga llena, corazón content which roughly translates to – a full belly and a happy heart. Last week we were fortunate to have reached this inspired zenith by the wizardry of Cristina Giménez's Spanish cooking class at the wonderfully private and serene environment of Hart's Farm in Shoreham, Mornington Peninsula.
Cooking classes are a super way of learning about the culture of a country and its people via food and wine. These last few years have seen an explosion in cooking classes (certainly in the city) but the beauty about this one lies in the location. There are many professionally run classes (as is this one) but none can profess to have the same backdrop and setting. You would be forgiven for thinking that you were somewhere deep in the Mediterranean – not in the heart of the Mornington Peninsula.
On another note, modern day cooking classes are forming part of a passive consumerism trend toward active participation. Testament to the times, there's something very rewarding about learning new skills and creating in the kitchen as a major inspiration that eventually leads to greater creativity at home.
Now, back to two friends that become enamoured with the flavours of Spain and take us and another eight guests on a creative journey of amazing food and wine.
Penny is the owner of Hart's Farm (more on her and her husband Graeme's vision at another time) and our chef Cristina – petite yet exuberant – is passionate about Spanish culture, food, wine and her love of the Mornington Peninsula.
From the very beginning Cristina explains she wants the class to be a fun, hands on experience where we come away having learnt some of the Spanish language as well as how to cook some classic Spanish dishes. (Incidentally Cristina teaches Spanish to private students in the local area.) From the very beginning, a natural yet informal tone is set with Cristina proceeding to give each of us names in Spanish which adds to the fun and fantasy of the moment.
After going through some housekeeping and hygiene rules Cristina walks through all of the recipes, explaining the history of the dish, how Tapas came to be, differences between Tapas and Pintxo – Pintxo refers to any type of tapas held together with a toothpick, or skewer.
The dishes on the menu included three types of Tapas, of which two are pintxo, a Catalonian casserole containing chicken, prawns and believe it or not, dark chocolate and then a traditional dessert.
Recipe ingredients were all listed in Spanish as well as English and recipes cooked included:
Mejillones Gratinados – Mussels Gratin
Pintxo Moruno De Chorizo – Skewers with Chorizo (Moruno refers to its Moorish origin)
Tortilla Espanola – Potato Tortilla/Omelette then made into a tortilla pintxo by placing on top of crusty bread with a slice of piquillo pepper and putting a toothpick through the lot.
Mar I Muntanya  – translates to sea and mountain.  A casserole originating from the Catalonia region combining food from the mountains with food from the sea. A decadent casserole, containing a picada made from ground almonds, garlic, fried bread, sweet paprika and dark chocolate. Served with a green salad and crusty bread to soak up all the juices.
Crema Catalana – a traditional baked custard with subtle flavourings of cinnamon, lemon and orange peel.
Ingredients used were are all sourced locally from the Mornington Peninsula and the vegetables and herbs all came from Hart's Farms own vegetable patch – divinely organic. Instead of Spanish olive oil, we use Hart's own EVOO.  The prawns were sourced locally, the mussels came from Dromana, bread from the Red Hill Bakery – it was all very local, sustainable and with a strong focus on organic produce.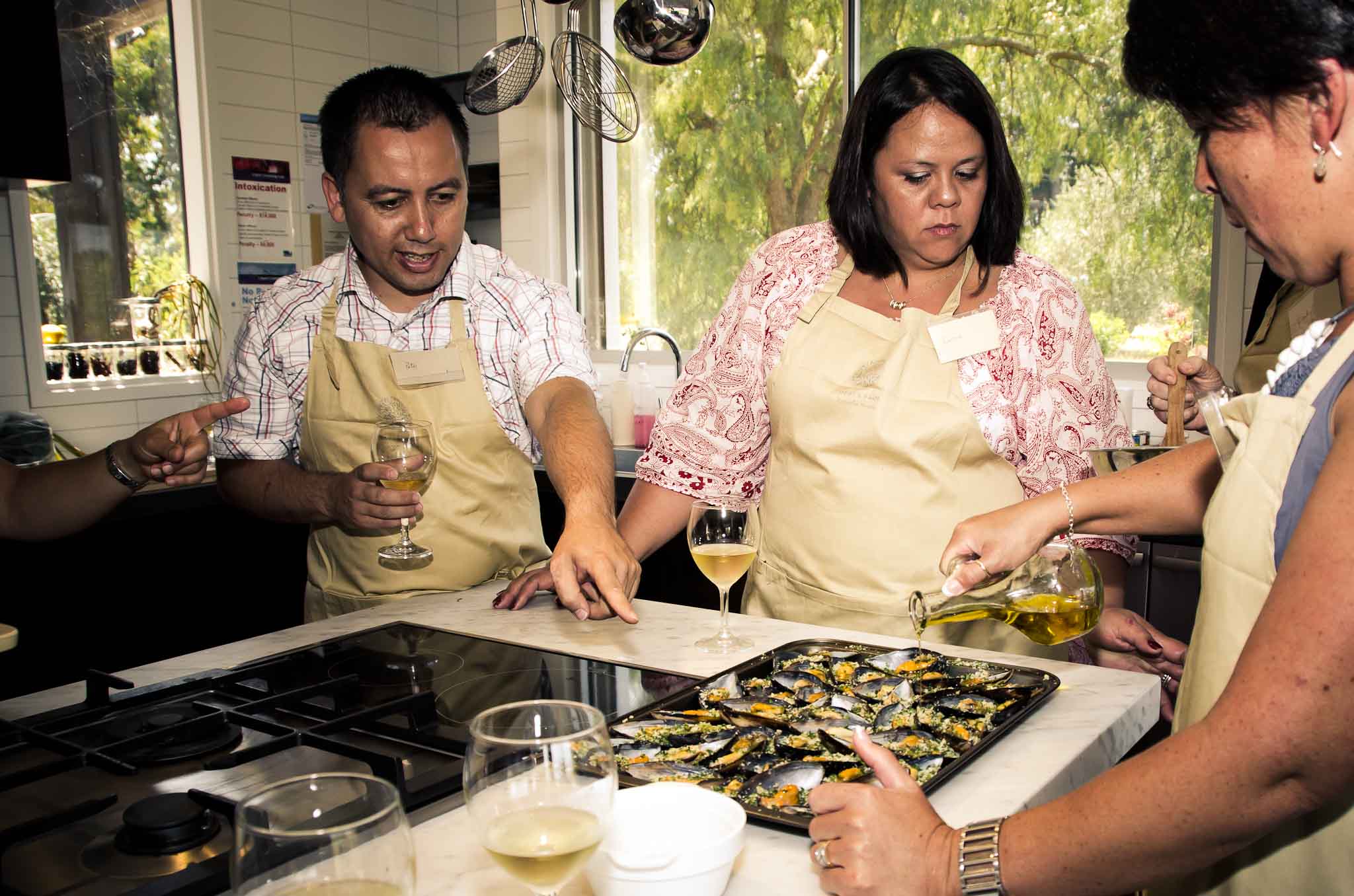 Throughout the class we all got to sit down and enjoy the food we prepared and accompanying this we were served some delightful organic white wine from Spain, the same wine found in Vue de Monde, Anada and Cookie to name drop a few. Like any cooking creation, the best part is eating the dishes on completion, which since preparing, since hearing the bubbling, the sizzling… one salivates and we did plenty of this.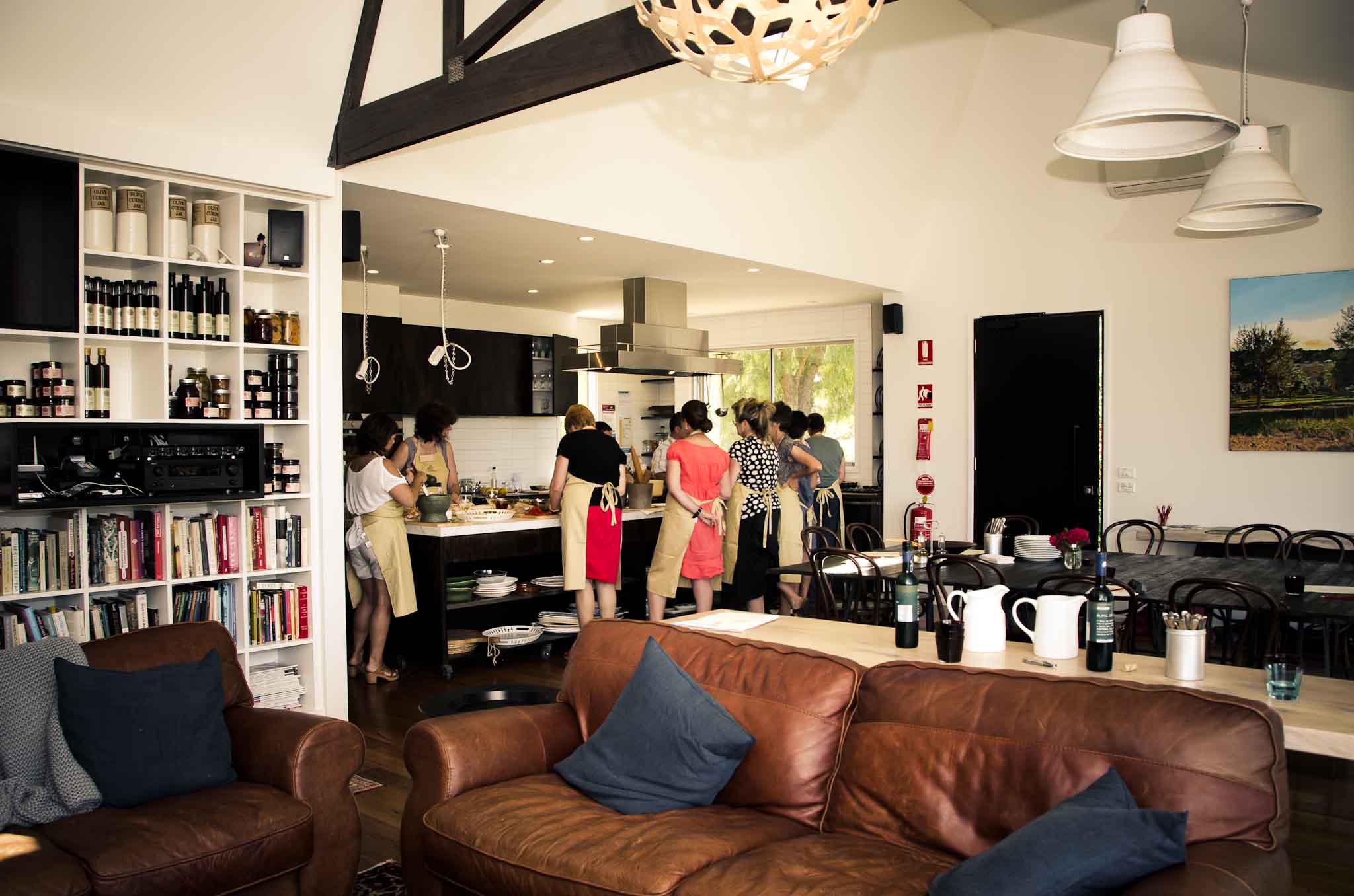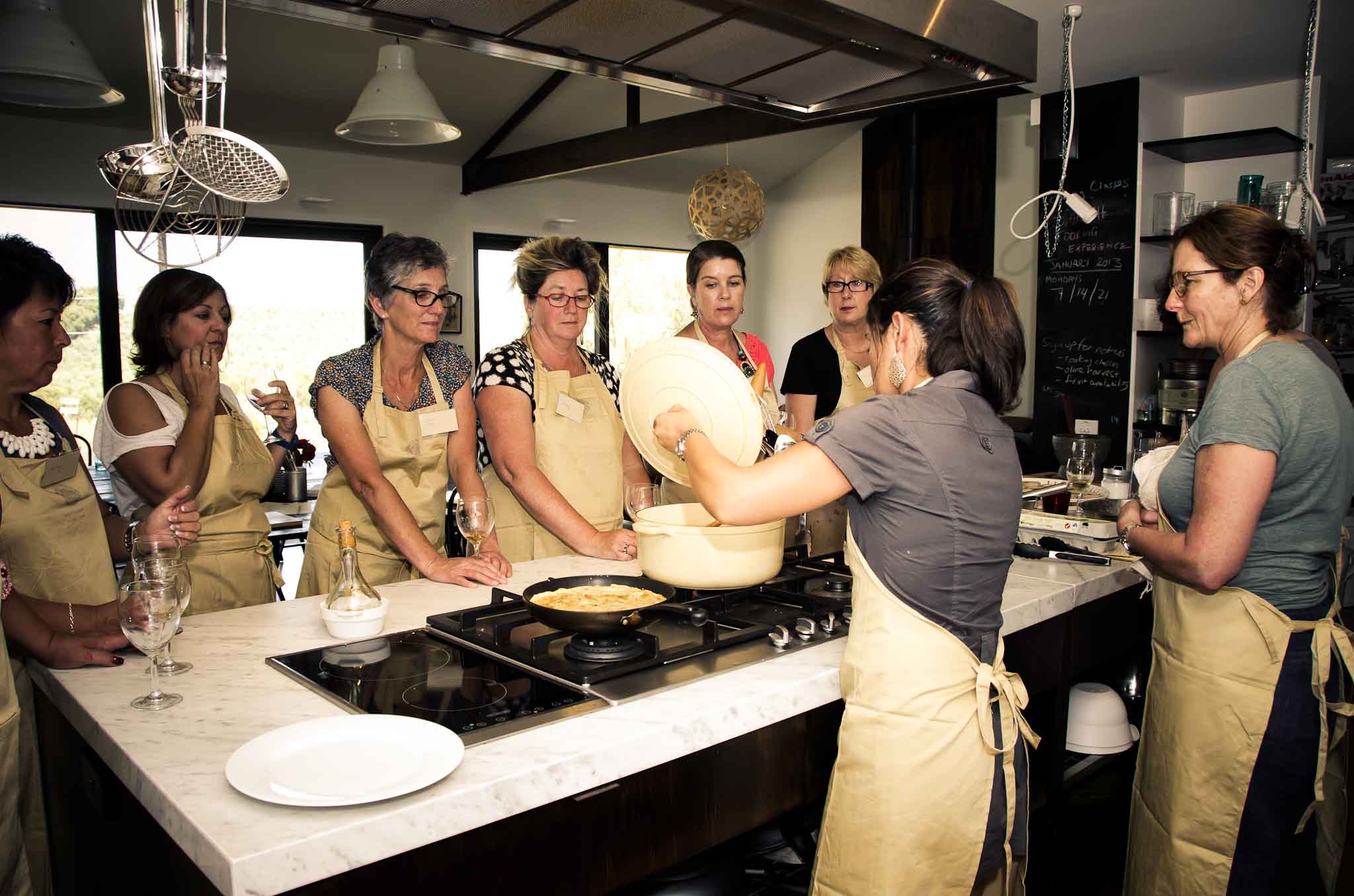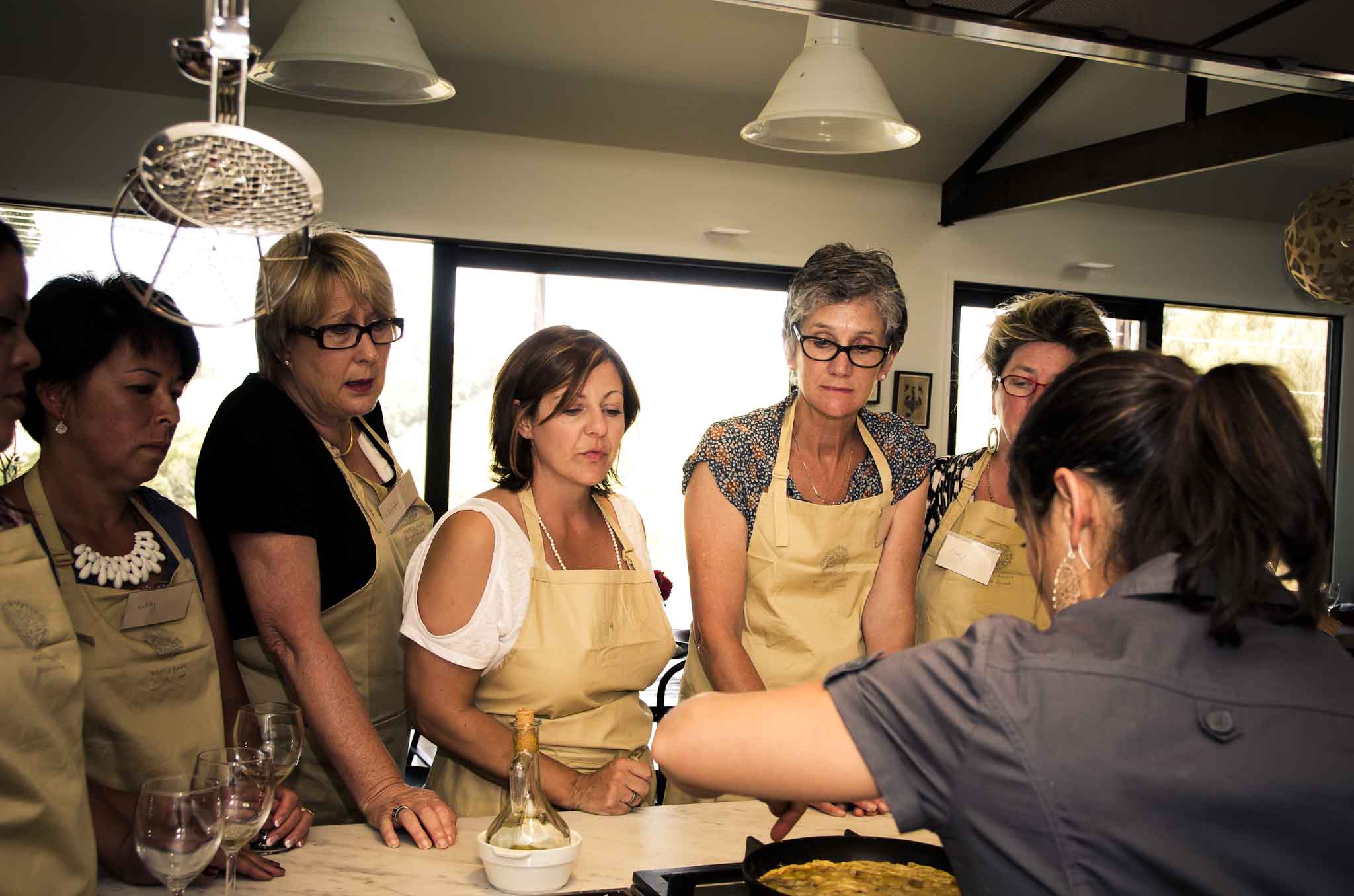 After the main meals, we gathered in the kitchen to put the finishing touches on the Crema Catalana and were served freshly ground coffee made by Penny to enjoy with our dessert. All in all, a lovely way to cap off the day which started at 11am and finished in what seemed to be a heartbeat at 3pm.  Time flies when you're having major fun and this was no exception.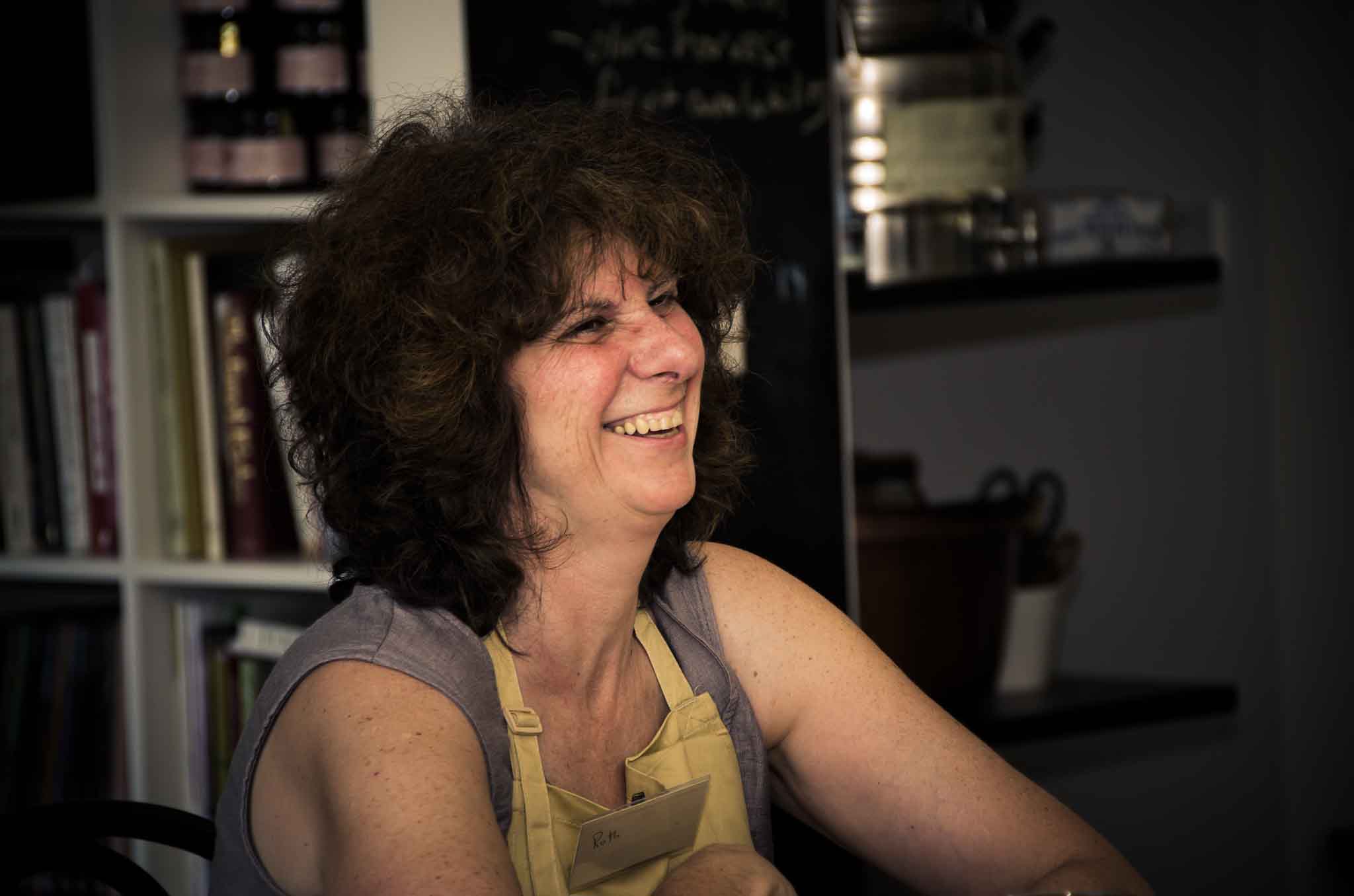 The atmosphere of the Hart's Farm classes are vibrant yet relaxed and provide a great chance to chat, and meet new people.  The contemporary kitchen wafted with smells of garlic and parsley and bubbling casseroles.  When we sat down to enjoy the fruits of our labour, everyone chatted, while Cristina went on to explain more about Spanish food and culture. The food was very festive and colourful and looked amazing on the table.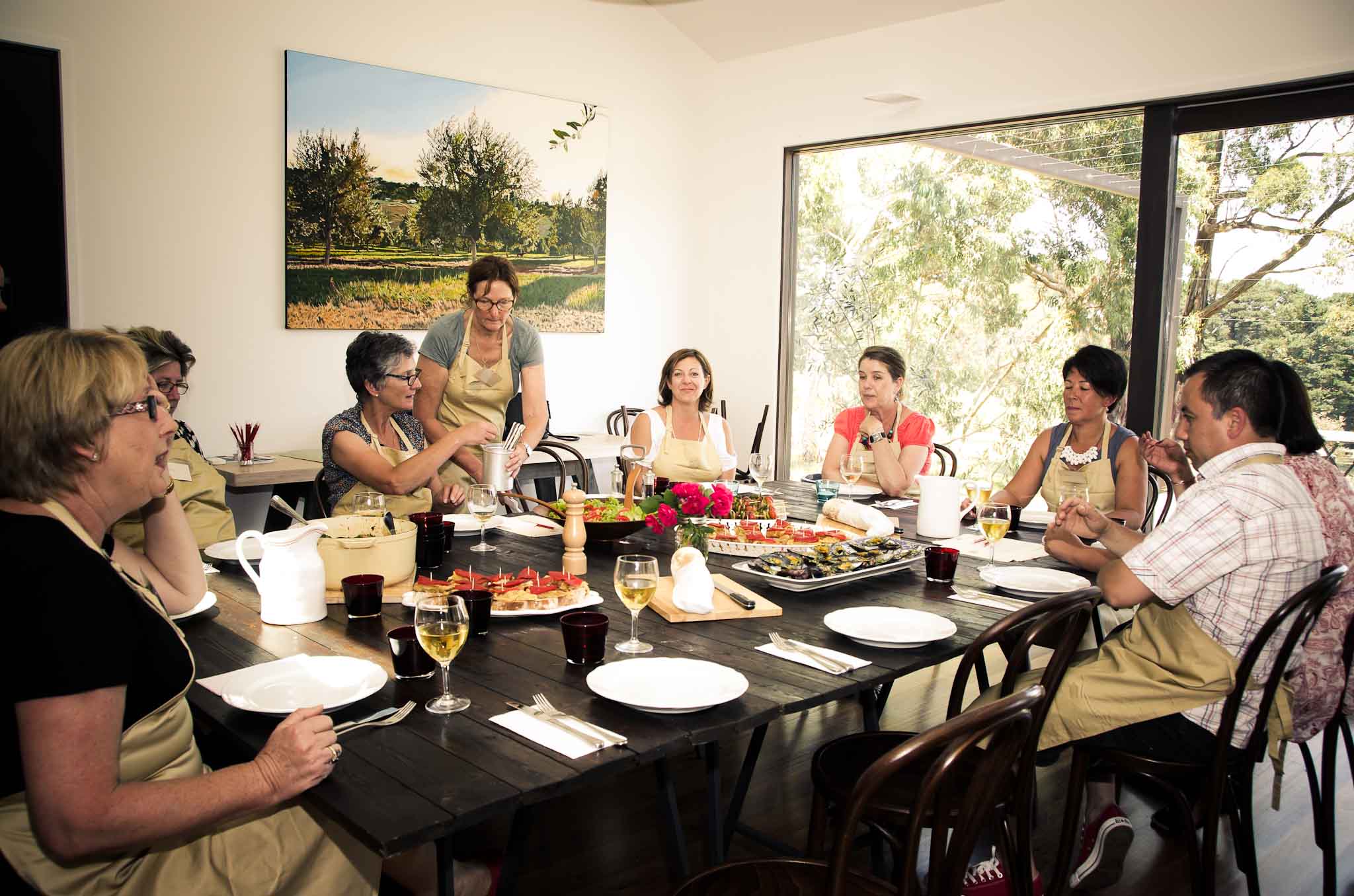 The bonus as mentioned earlier was the setting – one of a kind and every time we glanced out through the huge floor to ceiling windows there was a different vista that made us believe we were in Europe but we're so lucky to be so close to home.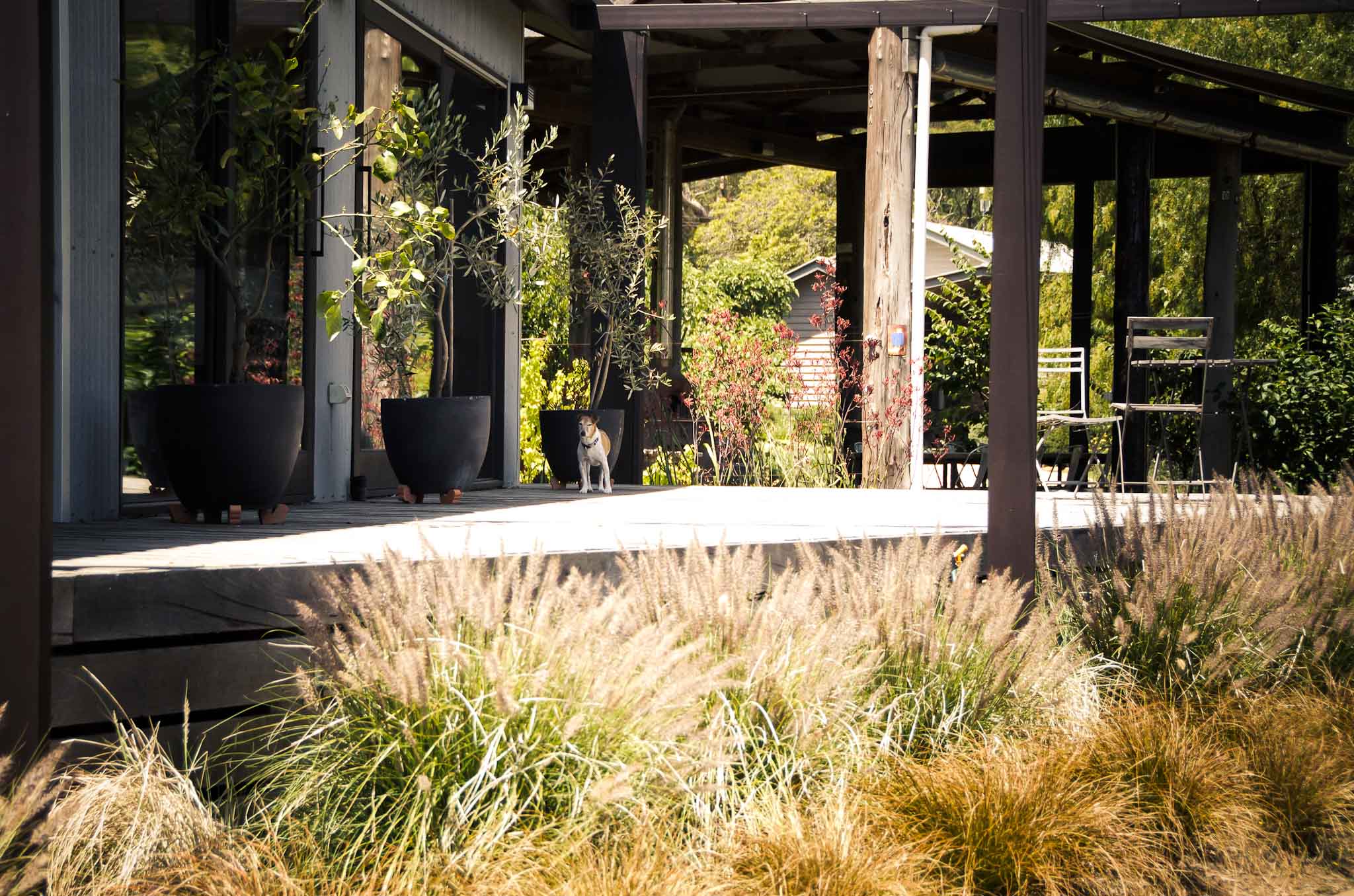 There are two more Spanish Cooking classes scheduled for this summer season including the 14th and 21st  of January. Autumn classes start from March 18th, 25th & April 1st with a new menu.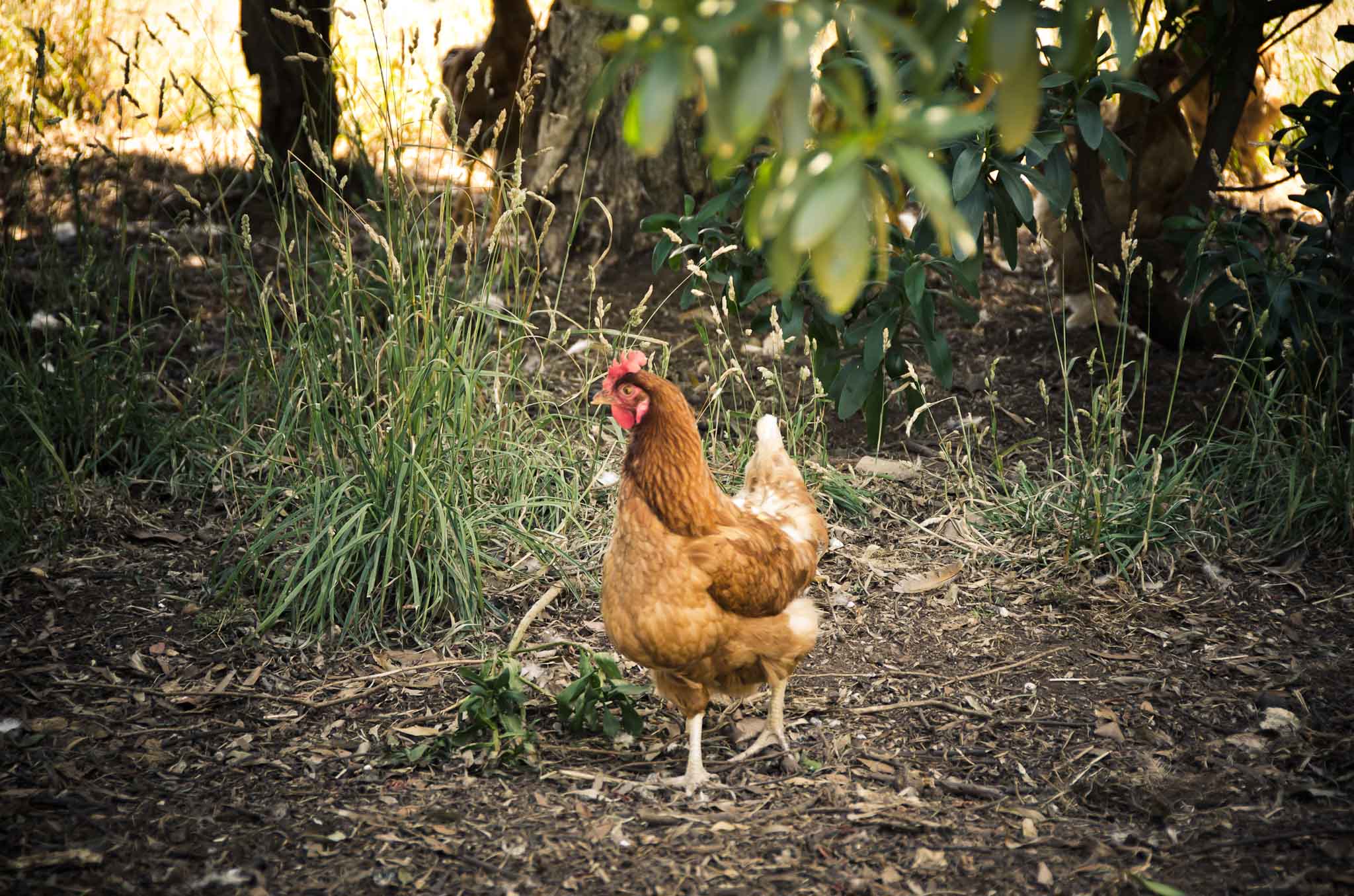 For more information on classes or to book your special place at Harts Farm, please contact Penny Hart on 0414 238 158 or visit hartsfarm.com.au