Foxeys Hangout, one of the Mornington Peninsula's premium vineyards now offer lessons on how to create your own bottle of sparkling. Kate Howell (one of our dedicated LTP's) decided to do something a little out of the ordinary for her good friend Tamsin's hen's party. To say the ladies had hit the jackpot would be a little understated. Tamsin is a lover of sparkling wine from way back and the opportunity to make something that she could then take home, as a keepsake was just perfect.
On arrival at Foxeys, the party were greeted by Michael Lee, owner and winemaker. Foxeys is one of the only vineyards on the Mornington Peninsula that make their sparkling on the premises and Michael is rightly proud of his wine and enjoys showing how it's done. He was the perfect host, joining in the hen's day banter, but going into detail about the sparkling wine process for the sparkling enthusiasts in the group.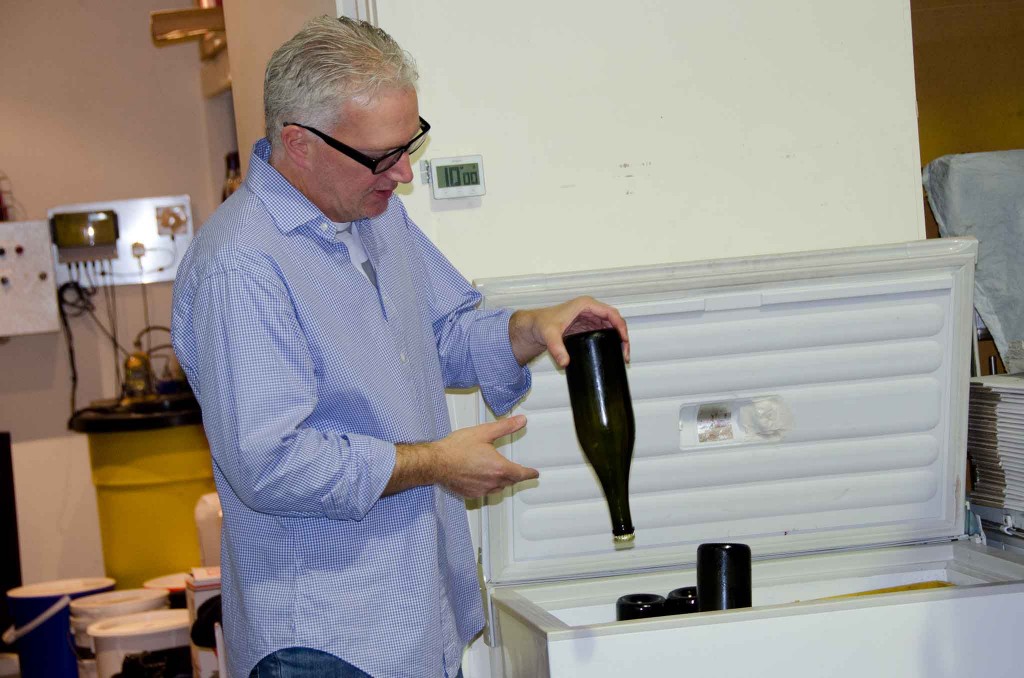 The first step – Michael removed the fermented sparkling ready to be disgorged.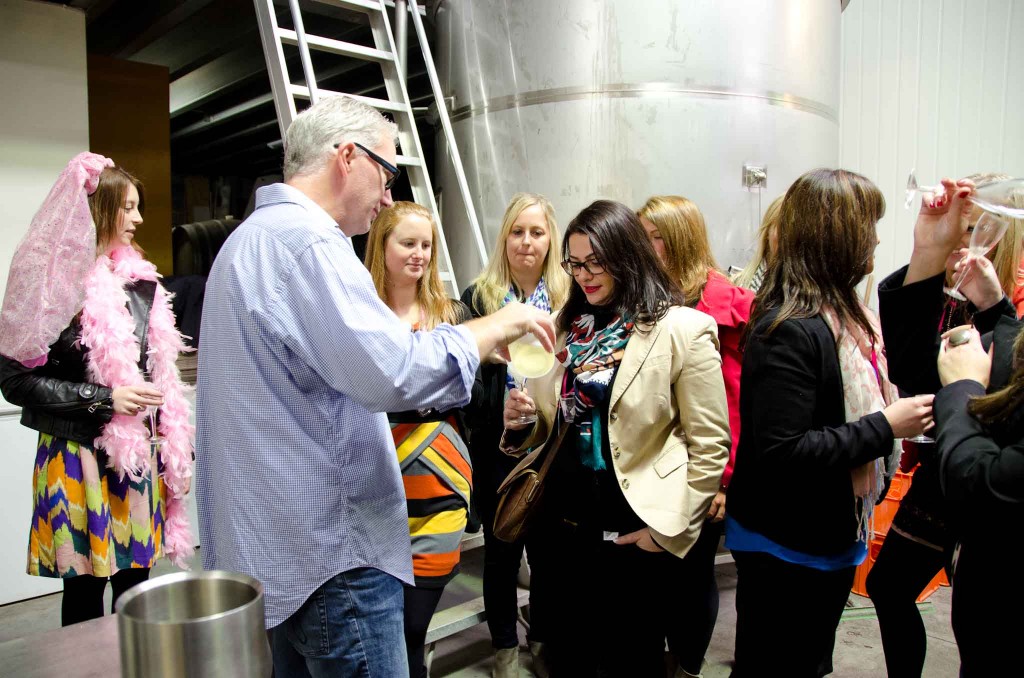 Sampling the goods. Note, Tamsin on the left is dressed to impress. During the lesson, the ladies saw the fermented sparkling base wines disgorged – the bottlenecks were frozen and opened and the deposit that has formed in their necks popped out as a chunk of ice.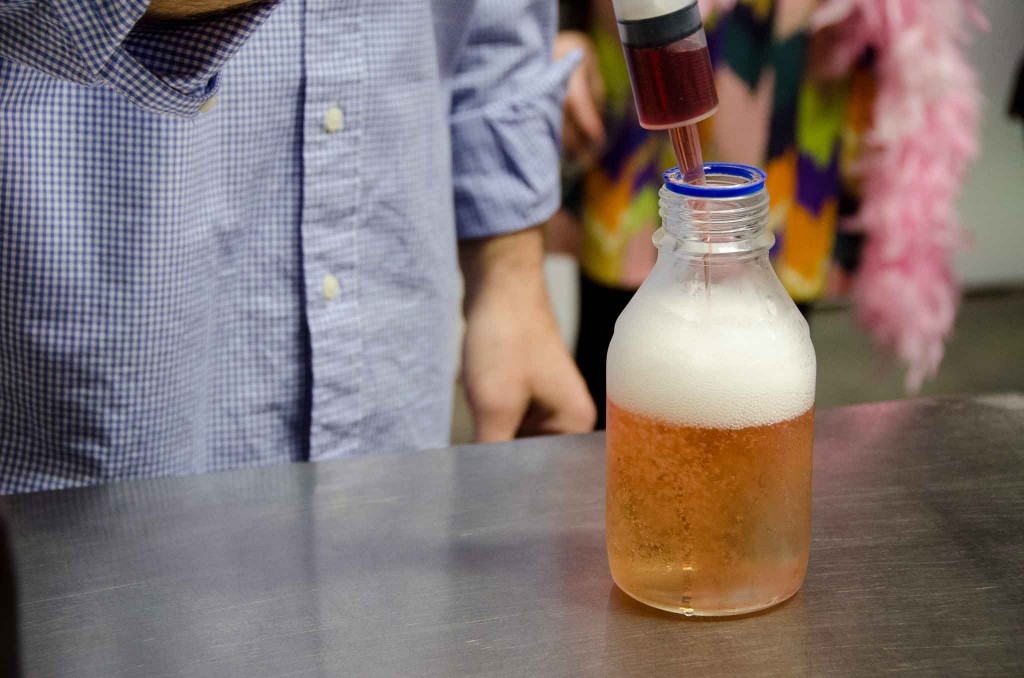 How sweet are you?! Michael added a mixture of wine and sugar syrup, called the dosage, for Tamsin's tailor-made sparkling wine. You can select how sweet or dry you like your sparkles.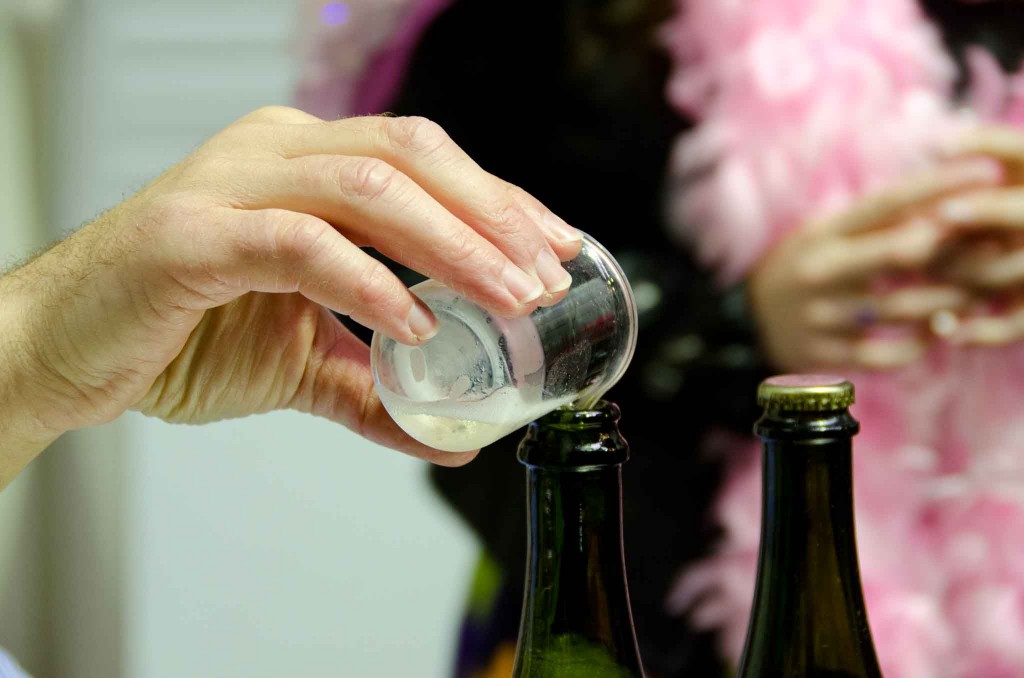 The perfect mix. Michael then prepared the wine for bottling. After tasting a range of sparkling wines, Tamsin selected the base wines to 'finish' the blend.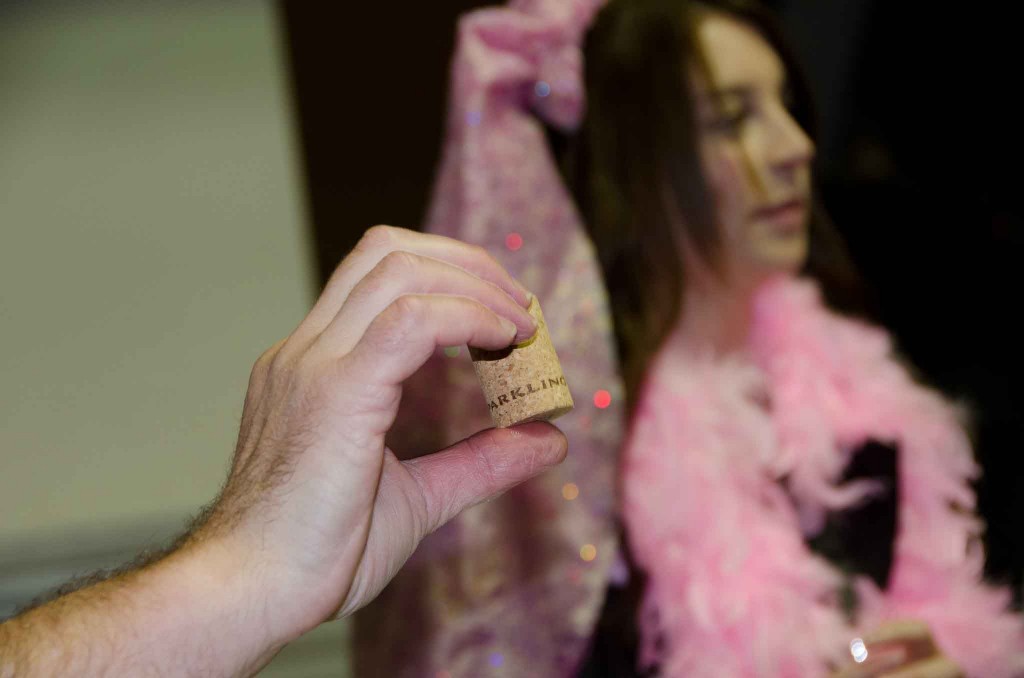 The corking brought on a few 'oohs' and 'aahs' from the ladies, with the use of the fancy cork machine which compresses the cork into the bottle and secures it with a wire muzzle.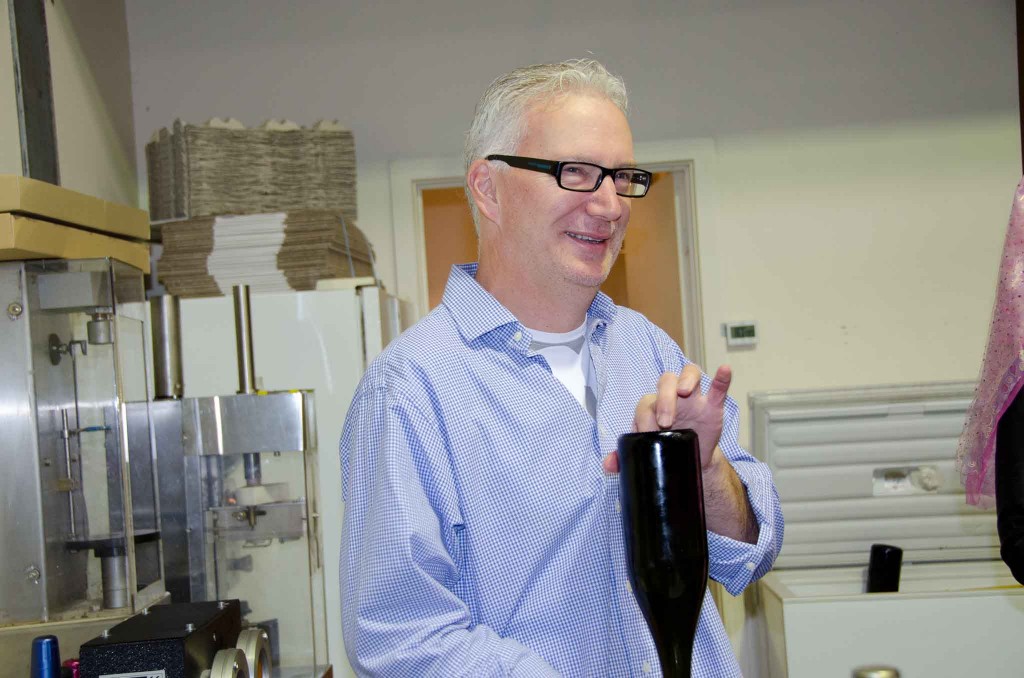 A final shake to mix the contents and the bottle is ready for labelling.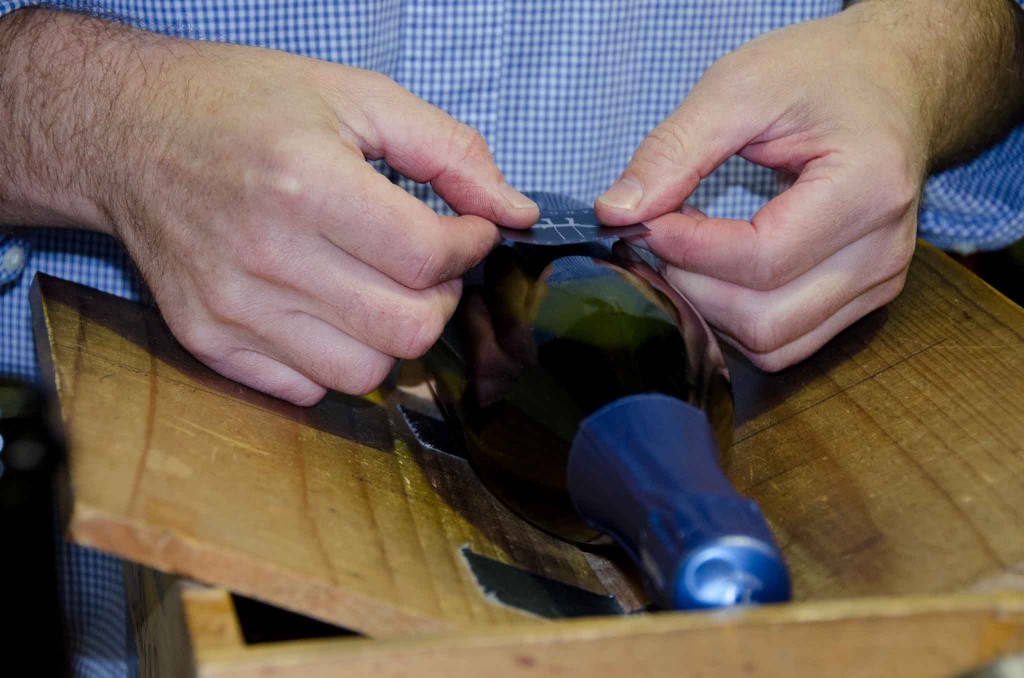 Michael then applied the label to Tamsin's personalised bottle of sparkling.
Along with the personalised sparkling session there were opportunites to sample a number of Foxey's delicious and acclaimed wines –including a late harvest pinot gris which was apparently 'delicious'!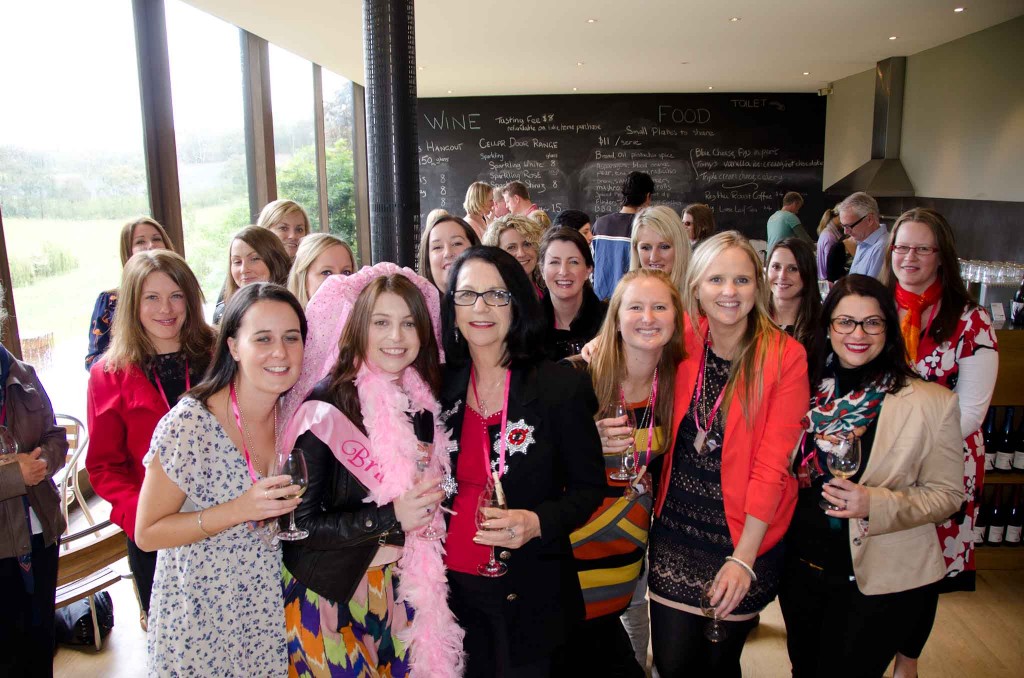 The happy group went home with heavy arms carrying a number of Foxey's wines for the bus trip back to Melbourne.
You can create your own, uniquely personal bottle of Foxeys Hangout Sparkling wine. Personal bottlings are by appointment at 11am every Saturday and Sunday. Two people, including tastings and a take-home bottle costs $50. To book, telephone Michael Lee on 03 5989 2022.