Justine McNamara's paintings capture idyllic moments; images that are immediately accessible to anyone who has lived or holidayed on the Mornington Peninsula or, indeed, any bay or coastline.
Striking and lucid, yet dreamlike imagery evokes strong memories of, yearnings for – or both – simple luxuries. They are real, ordinary moments made surreal. A car pulls up by the beach, caravan in tow, leaving the worries and hassles of daily life long behind. Children leap playfully off a jetty into a calm bay, unconcerned with anything but the water beneath them.
Except the children never hit the water; this is a moment of innocence that lives forever. They remain suspended in the air; the only shift that occurs is as the artist relinquishes full ownership of the image to the viewer who finds themselves lost in it with their own imagination and interpretation of what is happening around the children or the caravan – if anything – who these people are (maybe they are the viewers themselves) and what they are doing.
Some of Justine's paintings are based on real people doing actual things but there is a sense of nostalgia in her striking art that pulls you in and nurtures thoughtfulness. Especially for those of us who spent many childhood summers on the Peninsula. The location is often not explicitly identified, but the influence is evident.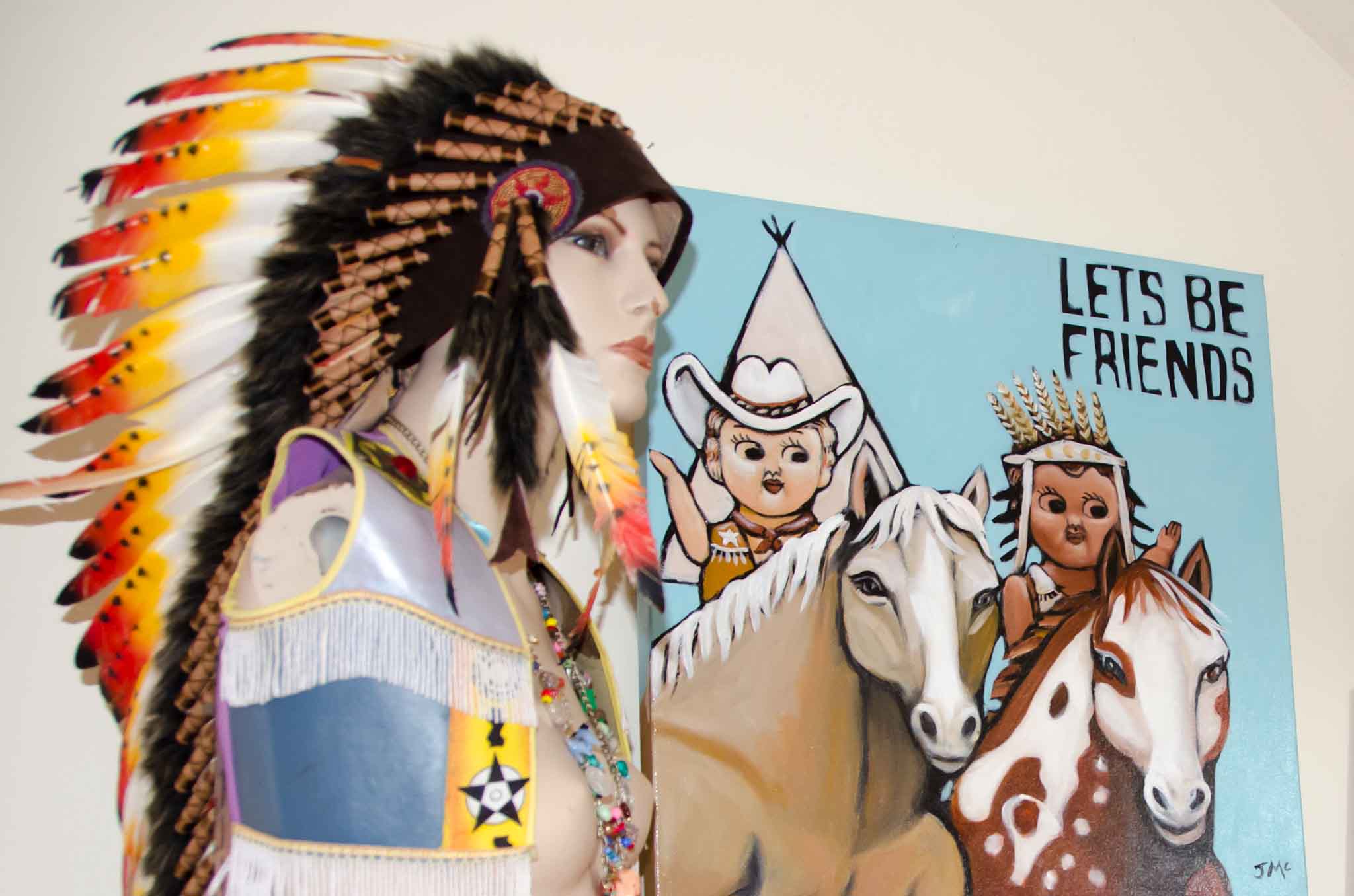 Her paintings capture subtly evocative moments and the viewer's mind fills in the gaps, whether with idealised memories or a sense of yearning. What we are thinking of when looking at painting's like Justine's isn't necessarily anything you can find in real life, even if it is based on something, but that is why we appreciate such pieces of art and spend time looking at them, thinking, dreaming.
The influence of the Peninsula in Justine's paintings is unmistakable. She calls it a haven that holds many childhood memories. Although "it has grown and changed", as did she, "it remains familiar and beautiful."  She enjoys watching people relaxing down on the coast, making their own special memories, and tries to capture the sense of play that she believes the Peninsula brings out in people. Justine ran a gallery and recycled timber workshop, called OverBoard Designs, with her dad for several years until the birth of her second daughter.  At this time, Justine moved to working from home, which she found easier but missed the opportunity "to have direct dialogue with the public and experiment with my ideas."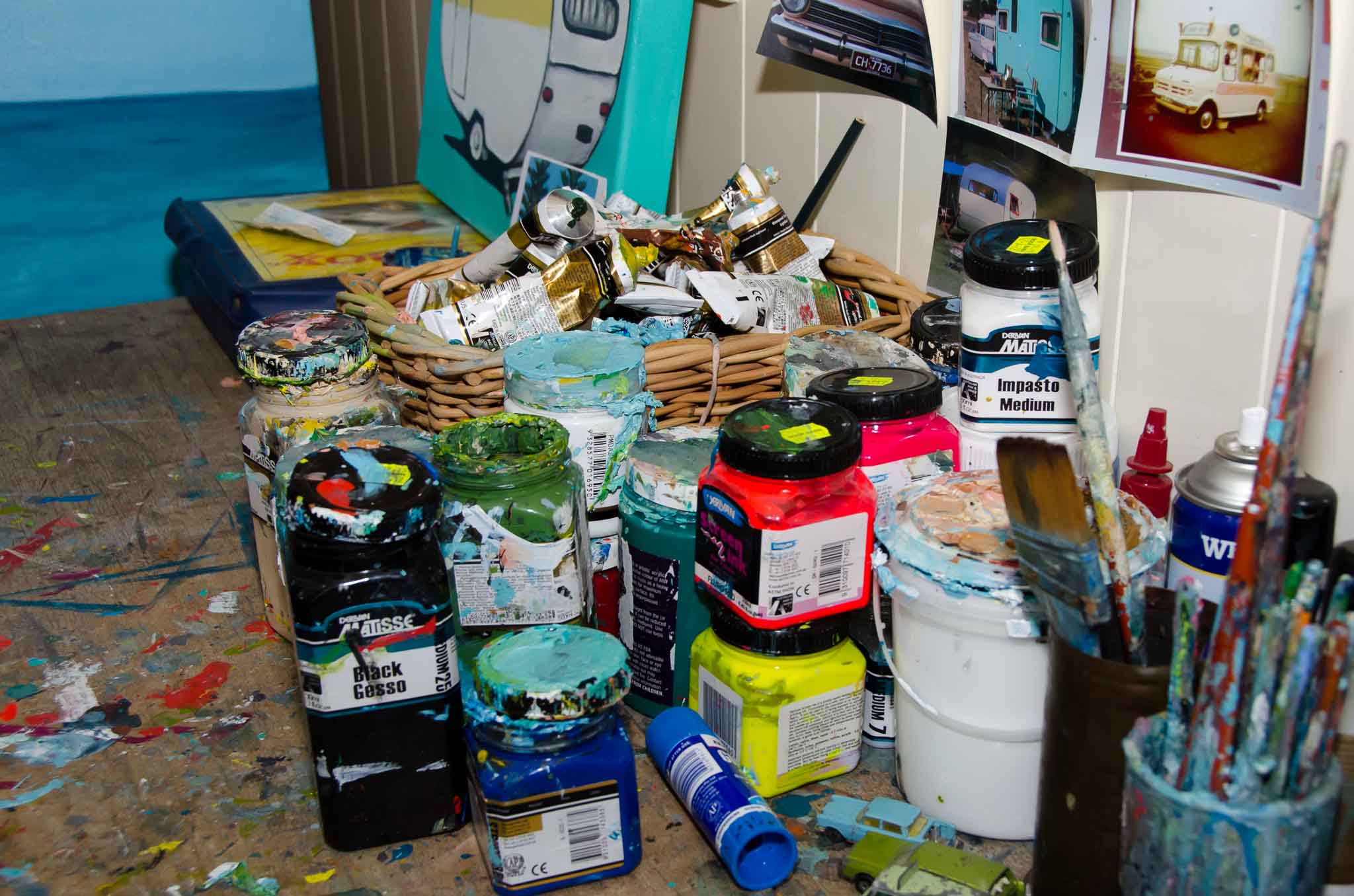 Though she has plans to build a new studio soon, and move her mess out of the living room, the family home is nestled in dunes facing south towards Bass Strait where she can hear the waves crashing onto the shore, or head out through the back yard towards the beach and clear her mind.  Like the waves that roll in onto the shore and retreat to the sea in a constant repetition, Justine says that her ideas come and go, and she has always felt a sense of urgency to get things done. "I dream about paintings that I want to create," she says, "I have to find places in my brain to store them!" "I may see something that triggers an idea, or hear a story. I have always been very passionate about telling stories, and I am lucky that my painting allows me to have a voice."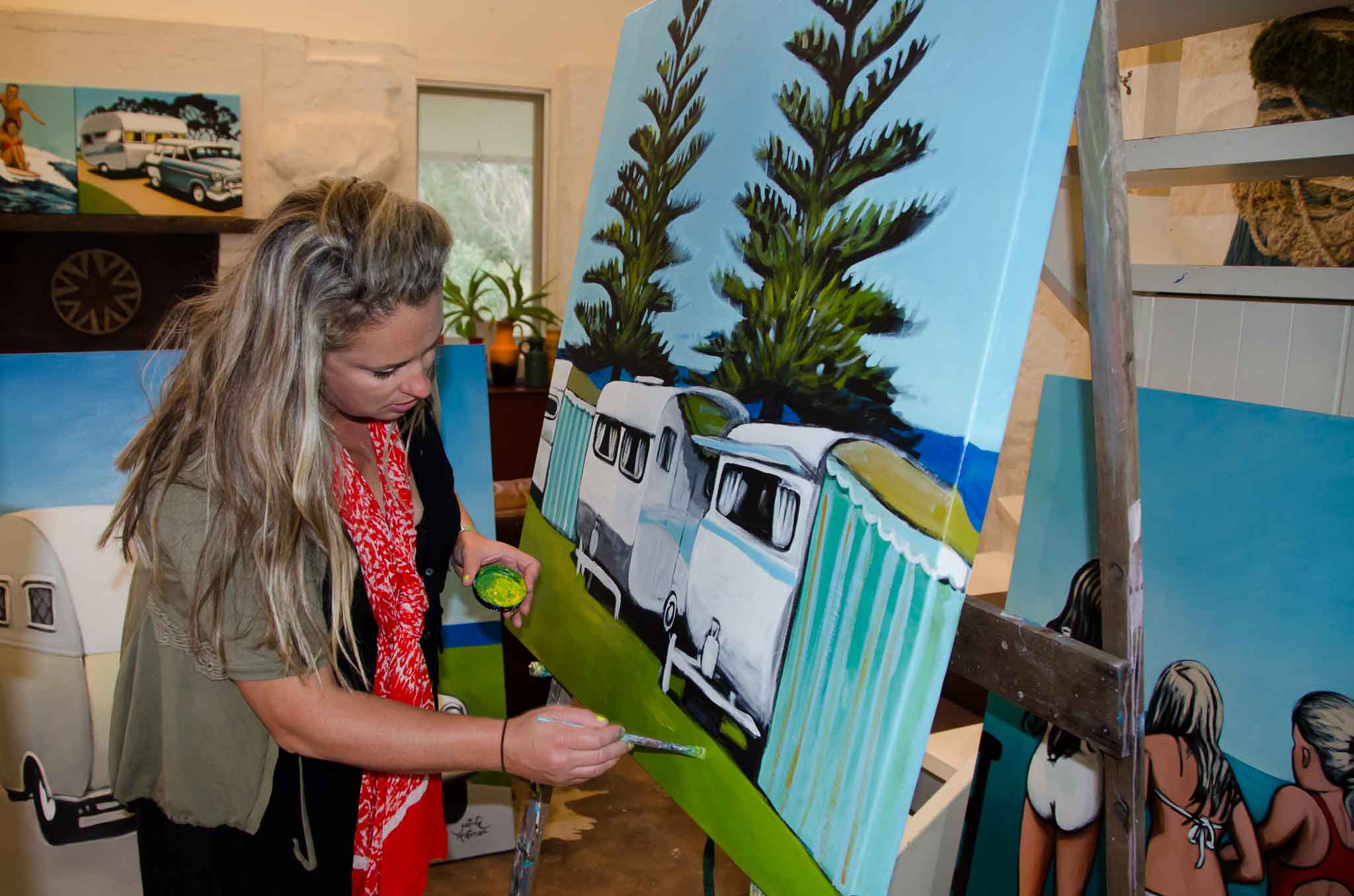 A sense of playfulness, innocence and sanctuary are common in Justine's imagery, which includes her caravan series, inspired by "memories of the freedom we had on the foreshore all those years ago", and her Kewpie doll Circus series, inspired by her girls' imaginative play. She calls her young daughters her greatest work and a constant source of entertainment and inspiration.
The annual two-day Christmas at the Studio event at Leisa Warrington and Flick Pope's Merrick's studio in November gives Justine an opportunity to connect with customers, art lovers and other artists, but her paintings are otherwise currently only available at Gallery Sorrento and The Suburban Gallery in Brighton, and online through her Facebook page. Her goal over the next year or so, however, is to expand her body of work to the point where she is able to source out to interstate galleries as well.
If successful, those buying further away from the Peninsula may lose the connection to the inspiration, but they will undoubtedly be able to fill it with their own ideas of what these idyllic paintings evoke.