Gracey Calnin's art delves into the depths of human emotion and instinct. Much of her work invokes wild animals and mysterious people, exploring the connection to the darker side of the human psyche, inspired largely by folklore and fairy tales.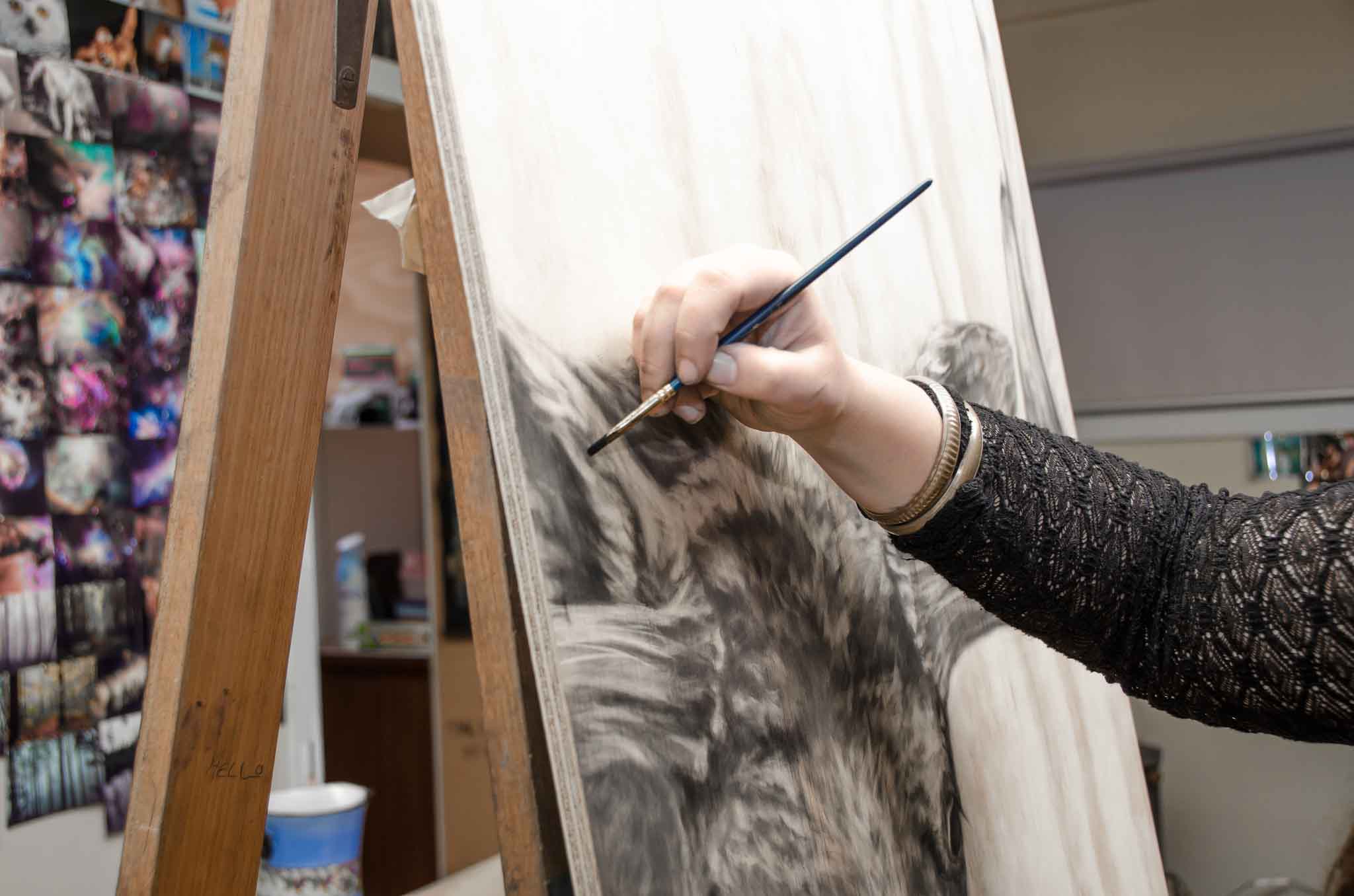 There is little immediate influence from the Mornington Peninsula, a place known for sunshine and beaches. Yet Gracey does seem to draw heavily on the local environment, perhaps as the starting point for her vivid imagination. "When I was growing up here I didn't appreciate it. After living in the city for six years, I've learnt the value of trees, secret hiding places, the ocean, the inspiring people and the magic. There is a lot of magic."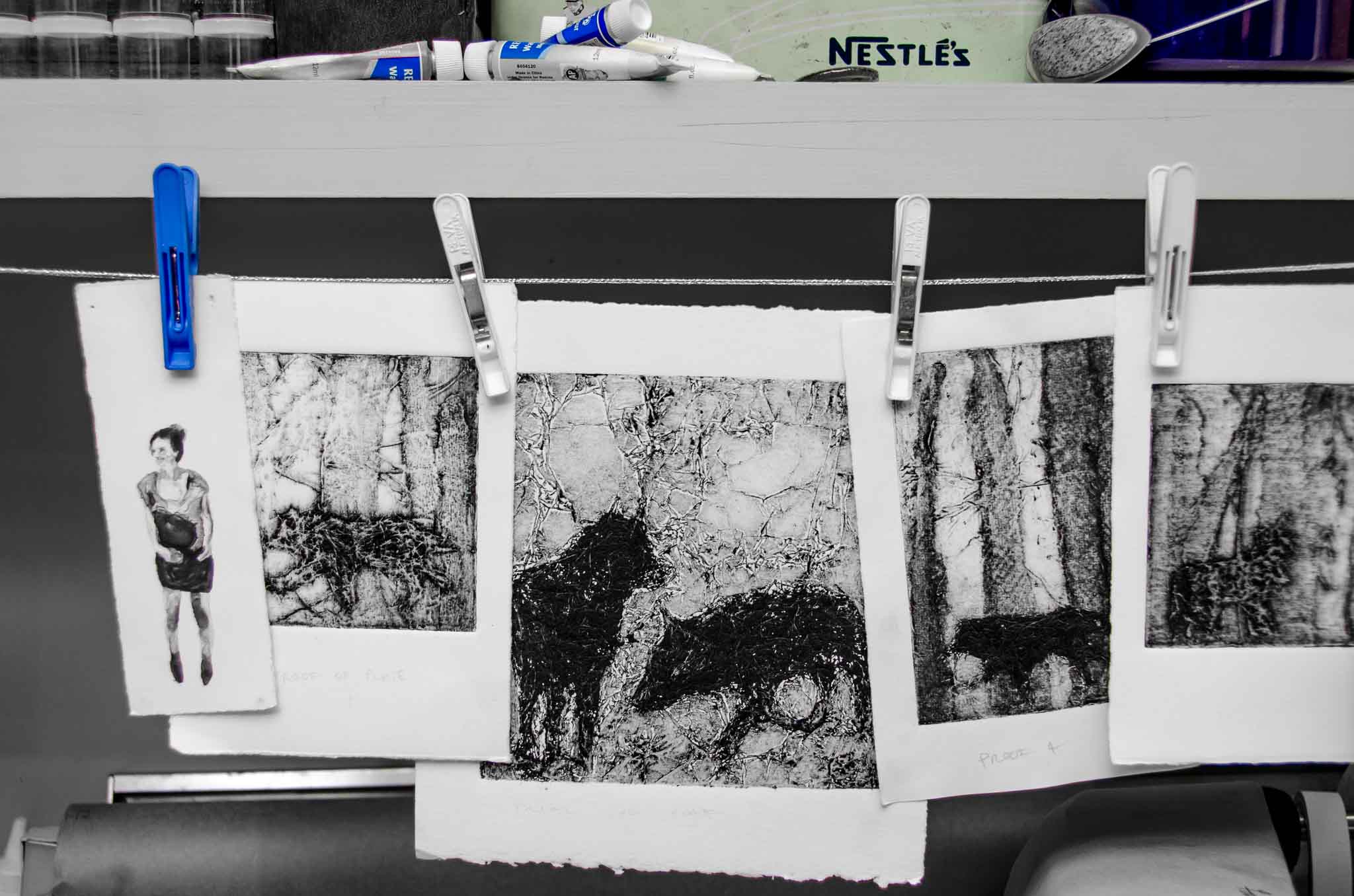 Through portraits of people and animals – real and imagined – she attempts to reveal the hidden beauty that is often missed, or underappreciated, in everyday life. Attempting to present that depth on canvass is a difficult task, but one Gracey is becoming increasingly adept at, through her use of charcoal (for its "charming ambiguity") and watercolour mono-prints that explore the relationship between nature and human nature; the predatory instincts that lie beneath.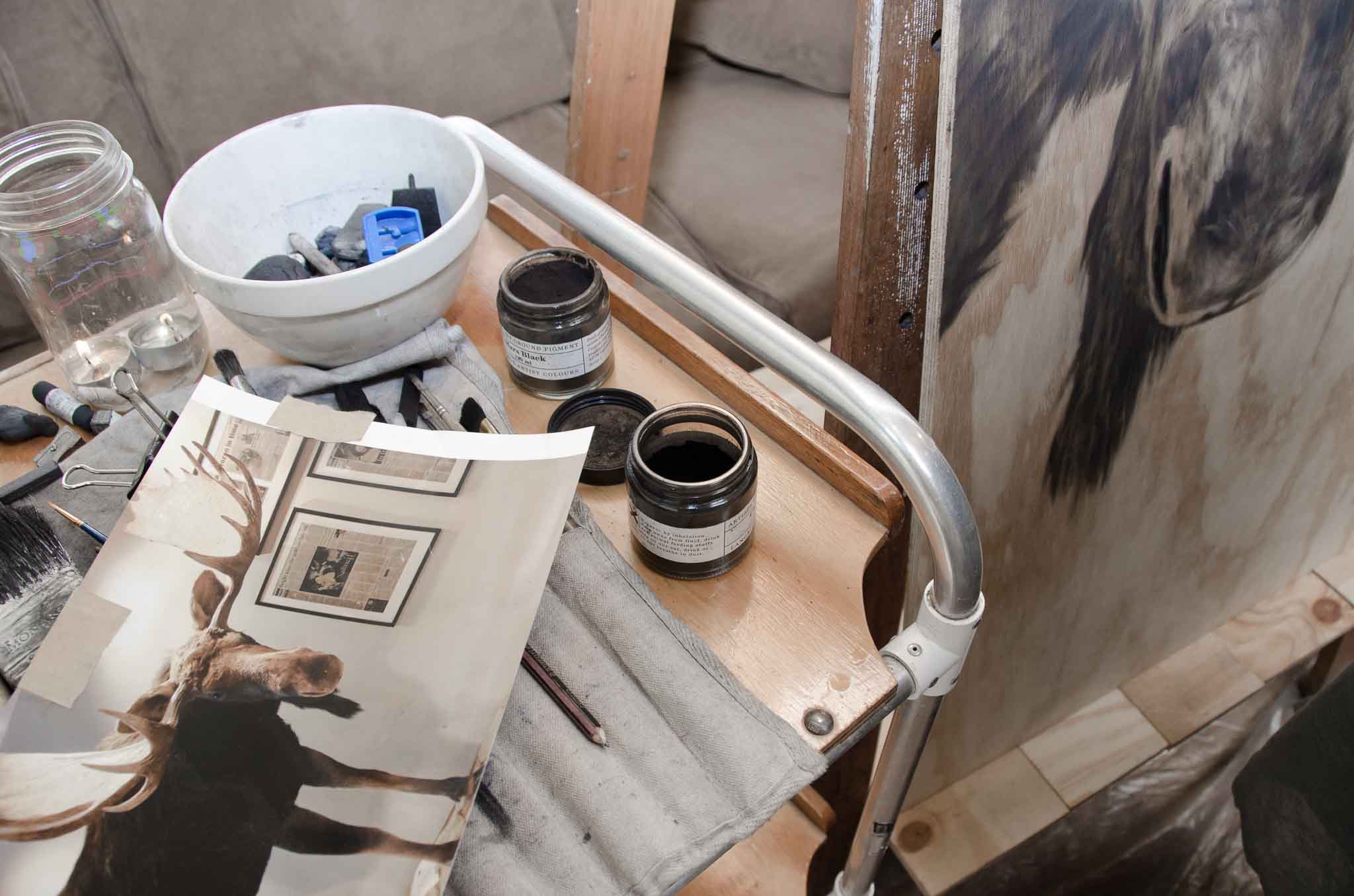 A lighter curiosity presents itself in other works, such as a portrait of her Opa (grandfather), in which his still face holds deep expression, and, at an immediately visual level, her magnificent use of charcoal gives the impression that you could feel the gentle creases and texture of his face with your fingertips.
It was her Opa who set Gracey on the path to artwork, through the hand painted birthday cards he would send to his grandchildren. Gracey loved them so much she asked him to teach her to use paints.
Though she uses crushed charcoal more than anything else now, demonstrated by the thick layer of black dust that often covers the floor, Gracy says that "to this day I still work with the watercolour techniques he taught me, although they've been adapted for printmaking."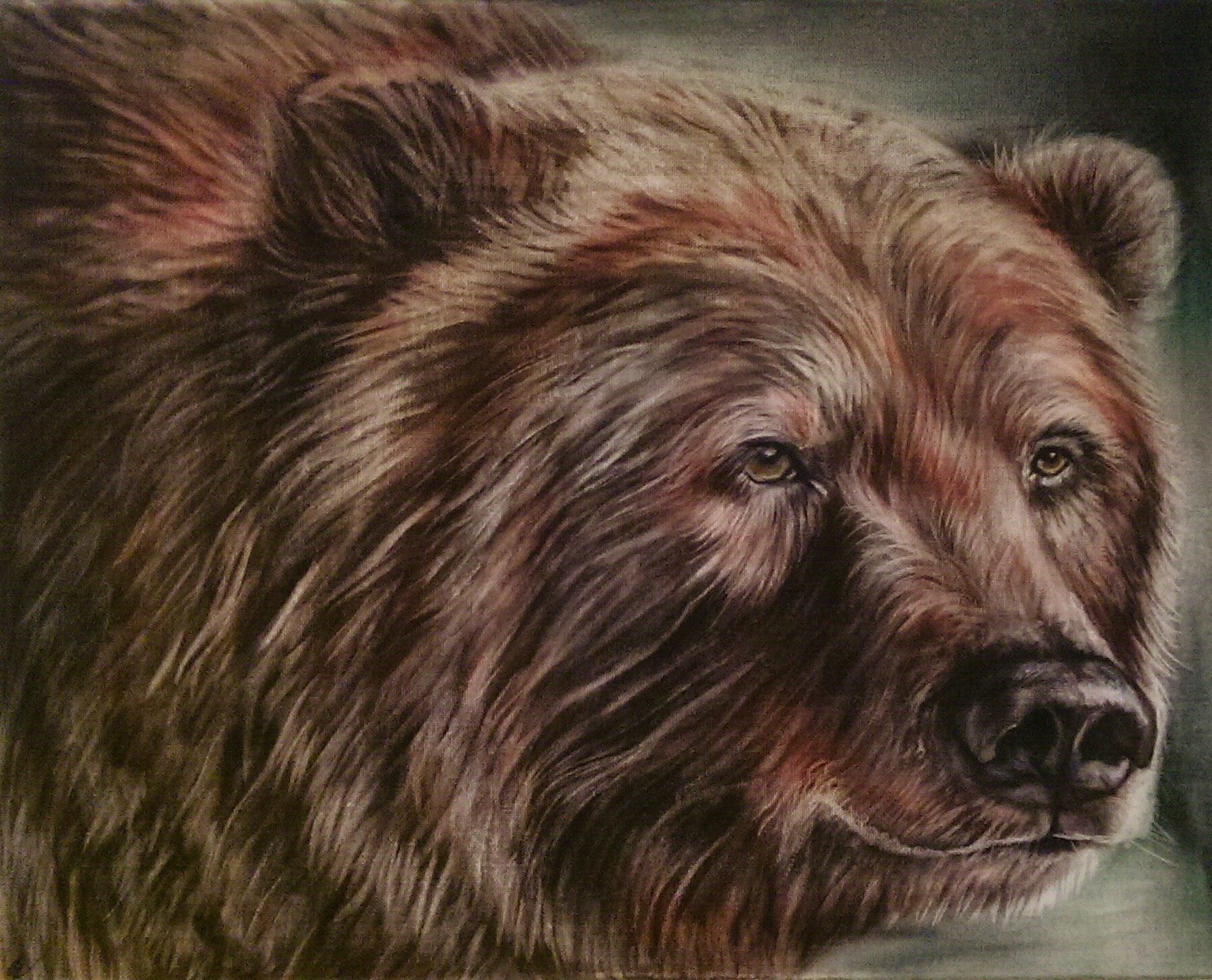 A love of books has also been influential. At one stage in her life she wanted to be a librarian, inspired, fittingly, by Giles in Buffy the Vampire Slayer. She turns to her books when looking for ideas and says that words from folklore and fairy tales "seem to get the creative juices flowing."
However, the sense of place that she enjoys on the Mornington Peninsula, created by people and environment, drives Gracey's passion for artistic expression. She is surrounded by creative types, including her musically talented brother Hayden.
"Sometimes they are just amazing, and can guide you in directions you didn't realise you needed to take." She reiterates: "There is so much magic around here."
And to draw on the offerings of the natural world, Gracey will wander one of the many local walks; Arthurs Seat State Park being a favourite. There are no wolves, bears or deer, but there is space for imagination.
Indeed, the animals that are the focus of Gracey's work don't reflect local fauna, but rather something in the living spirit. Though the imagery can be eerie or fierce, there is always a message buried in Gracey's art, a reward for taking the time to give yourself over to the piece and let its beauty emerge.
Wolves, in particular, are not merely a representation for Gracey. She would love to travel North America taking photos and volunteering in wolf education centres, and create an exhibition around the experience back home to raise awareness and funds for the long misunderstood animal, which is only recently returning from the brink of extinction.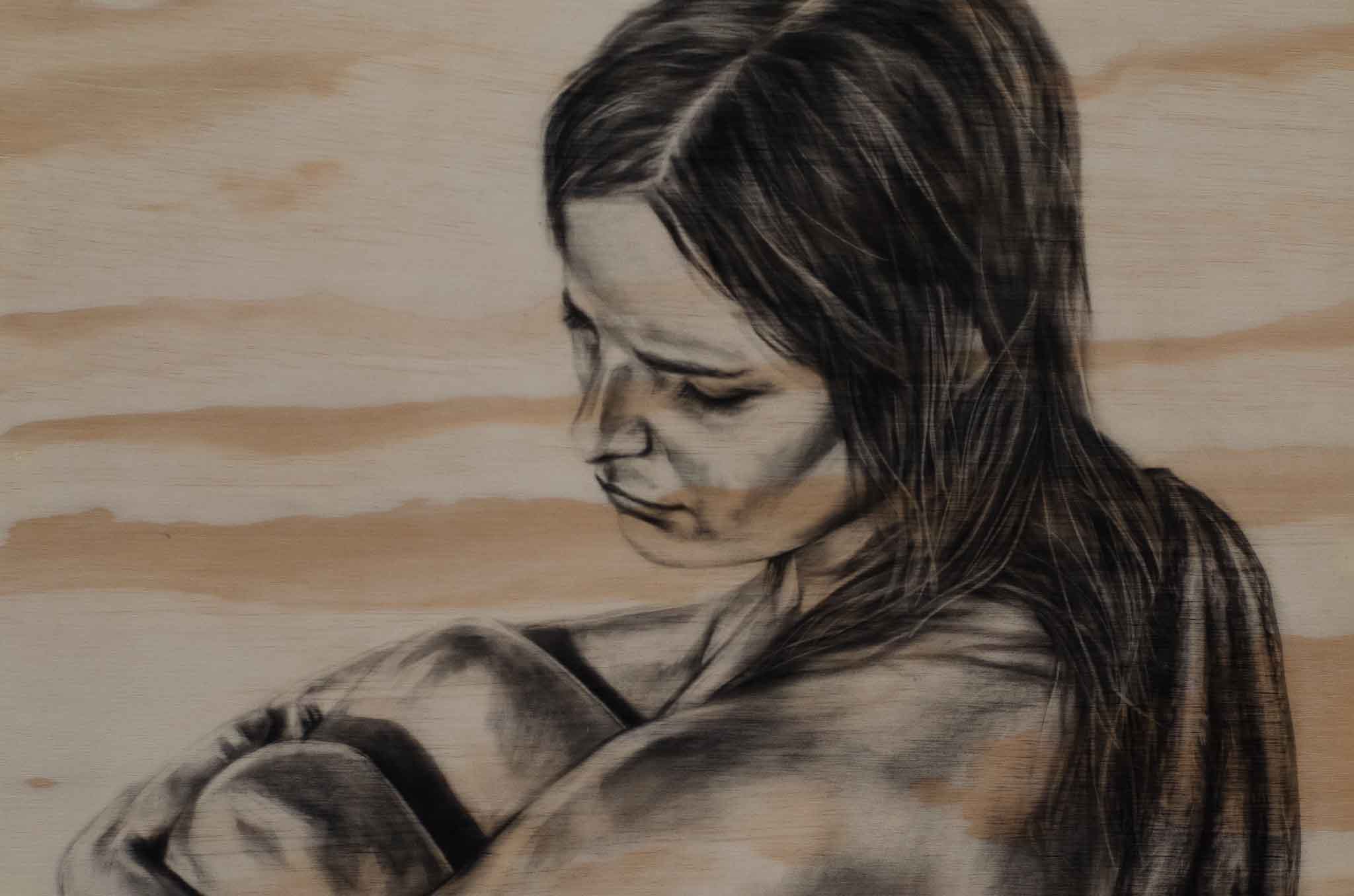 While Gracey's art is immersed itself in the mythical history of the wolf, it is a celebration of an untamed spirit; something she seems to strongly identify with.
You can contact Grace on www.facebook.com/GraceyCalninArt
Instagram: @graceycalninart
Email: graceycalninart@gmail.com