To witness the art of glassblowing is to witness history. The practice dates back as far as the early days of the Roman Empire, which helped it spread across the then-known world. Red Hill's Gordon Studio Glassblowers offers not only a gallery of colourful pieces of glass art for sale – both functional and decorative – but also an opportunity to see this ancient practice in action.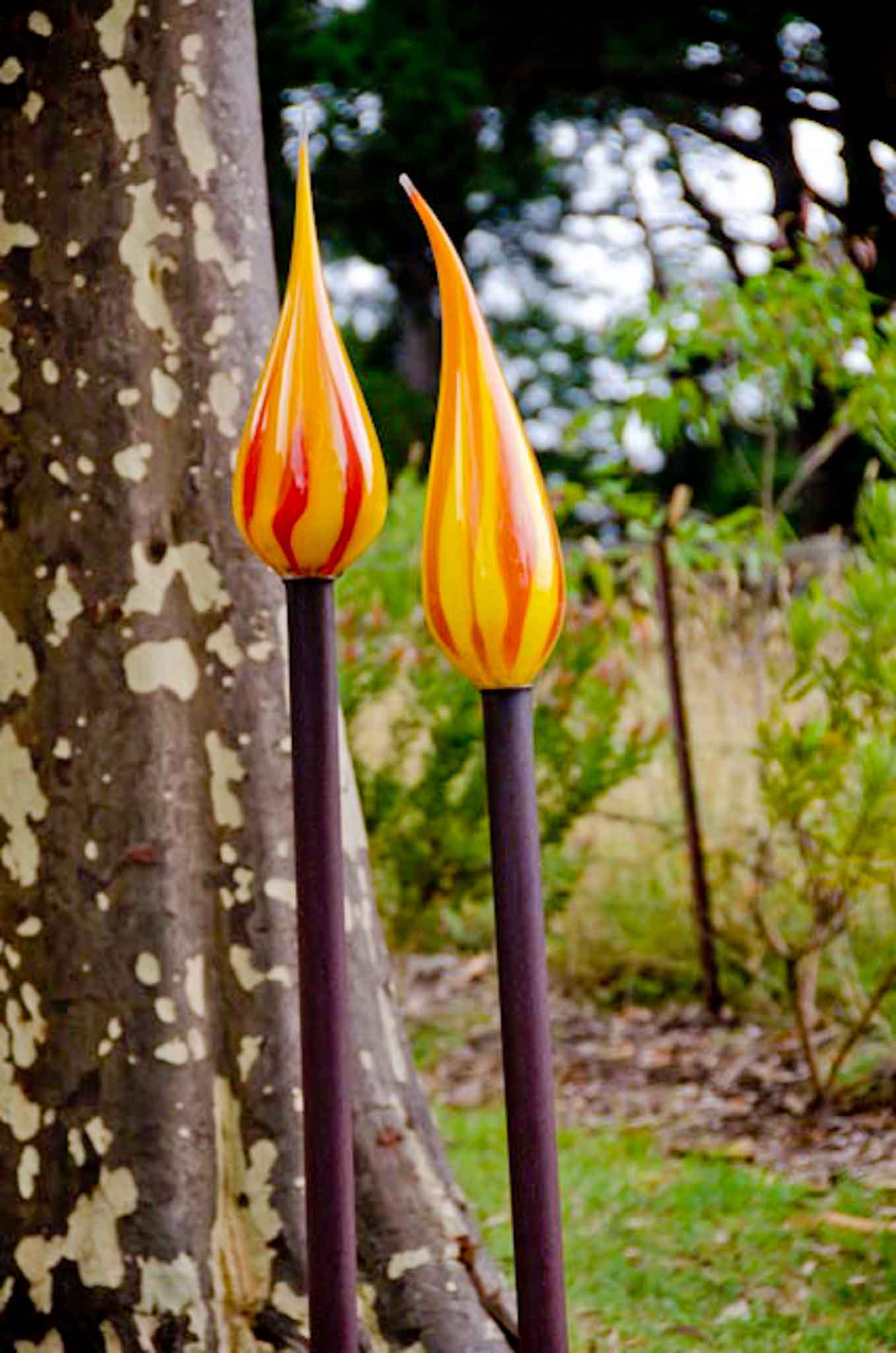 From day one Eileen Gordon and Grant Donaldson wanted their studio to be somewhere people could look behind the scenes and gain a true appreciation of their art.  Nestled in the rolling hills of the Mornington Peninsula hinterland, the studio has every angle of the artistic process covered – from looking in on glassblowing in action, looking out at the inspiring countryside, and looking around at the gallery's magnificent glassworks, all created onsite.  Each view is contrasting but tells a story.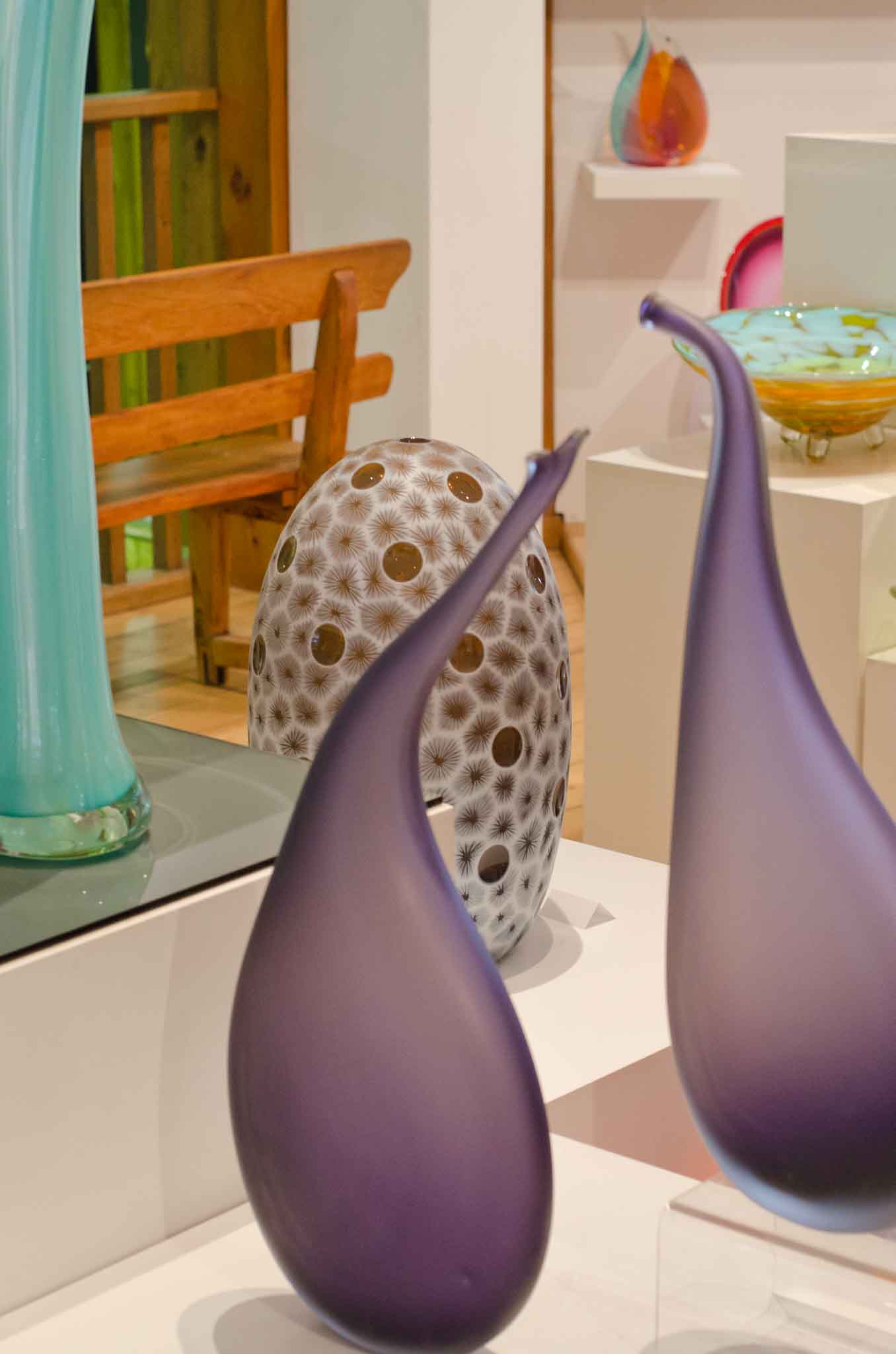 Outside rests a calm, peaceful environment with rural views, landscaped to nurture creativity. Inspired by the lush, natural surroundings, Grant, who discovered his love of glassblowing through Eileen, sketches his ideas. Though it is a constant challenge to create new, original pieces, the couple confess that it is somewhat of an addiction, and a shared passion. Without the constant buzz of town, one can find themselves more easily reaching that almost-meditative state where creativity strikes most powerfully.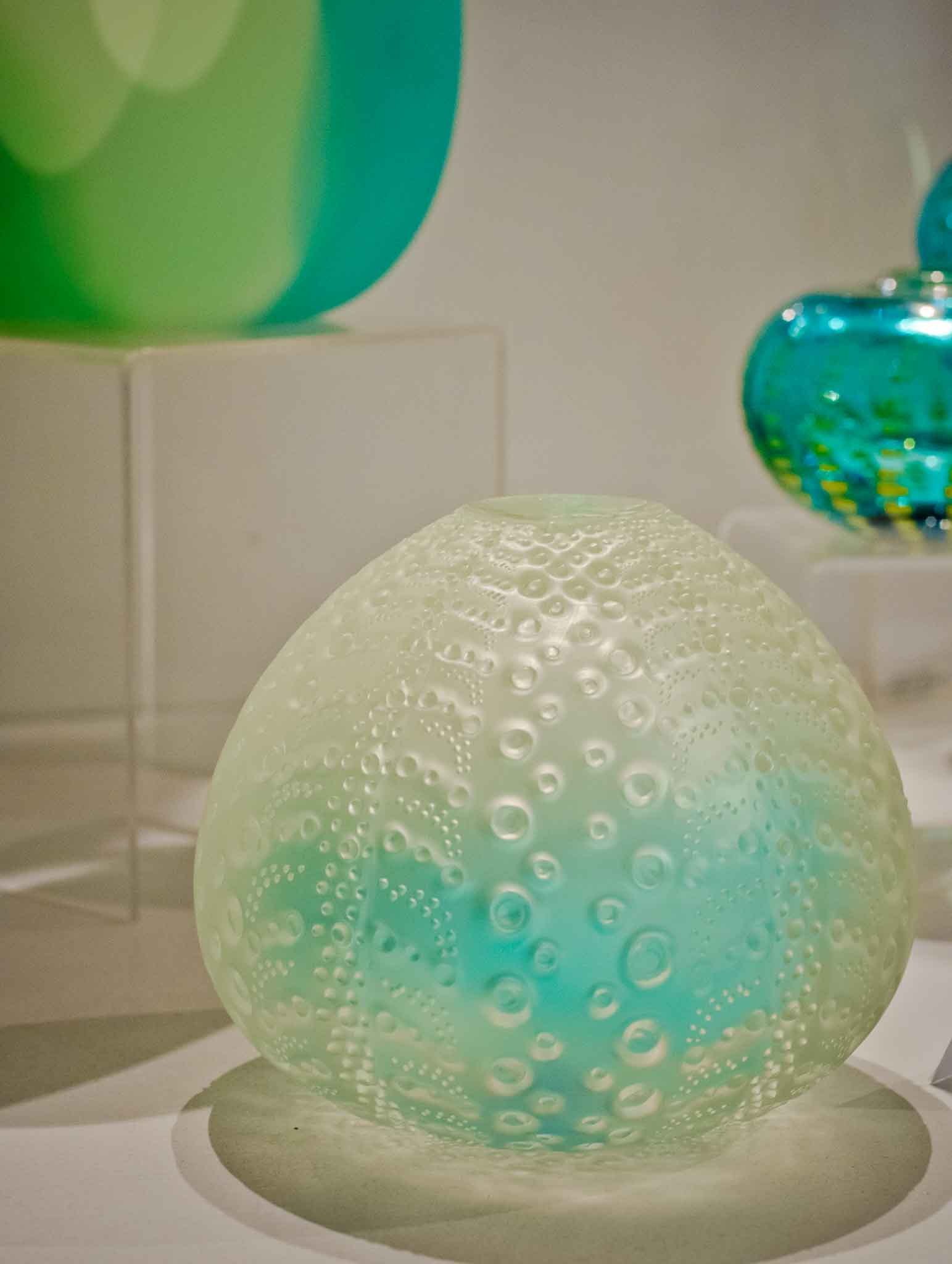 Finding the right setting to professionally practice their craft was incredibly important to Eileen and Grant. They spent ten years searching for that perfect spot to set up a glassblowing studio, before finally settling in Red Hill and opening Gordon Studio Glassblowers in 2003. Being close enough to Melbourne to source materials, providing sufficient tourism to sustain a business, and surrounded by the natural environment they craved, it offered the perfect mix.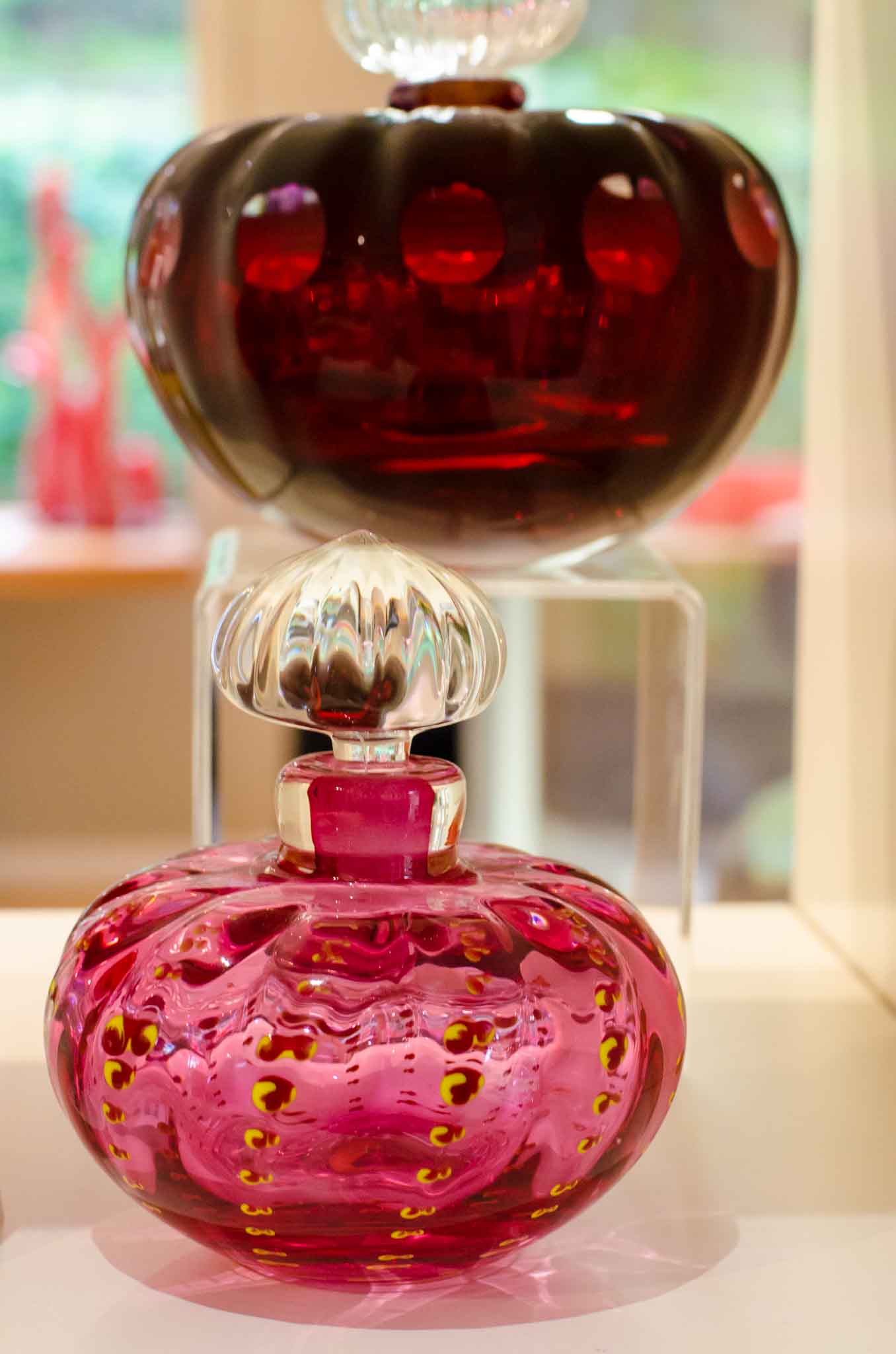 They renovated the property's old house with the specific objective of creating a secure viewing mezzanine that allowed visitors to watch the resident artists working with molten hot glass, shaping it, adding colour, blowing air and using gravity to create the pieces to be sold in the gallery. It is a distinct contrast to the peaceful views outside.  Glassblowing is a strenuous and challenging craft that requires physical and mental strength – just holding the equipment while blowing is physically demanding.  It is also now a rare trade, due to the cost involved. The techniques and tools – such as the glory hole, blowing iron, tongs, pincers and foot tool, which have changed little over time – all had to be sourced from England. Therefore, seeing glassblowing in action is a unique experience – as close a genuine tie to ancient history as you're likely to find.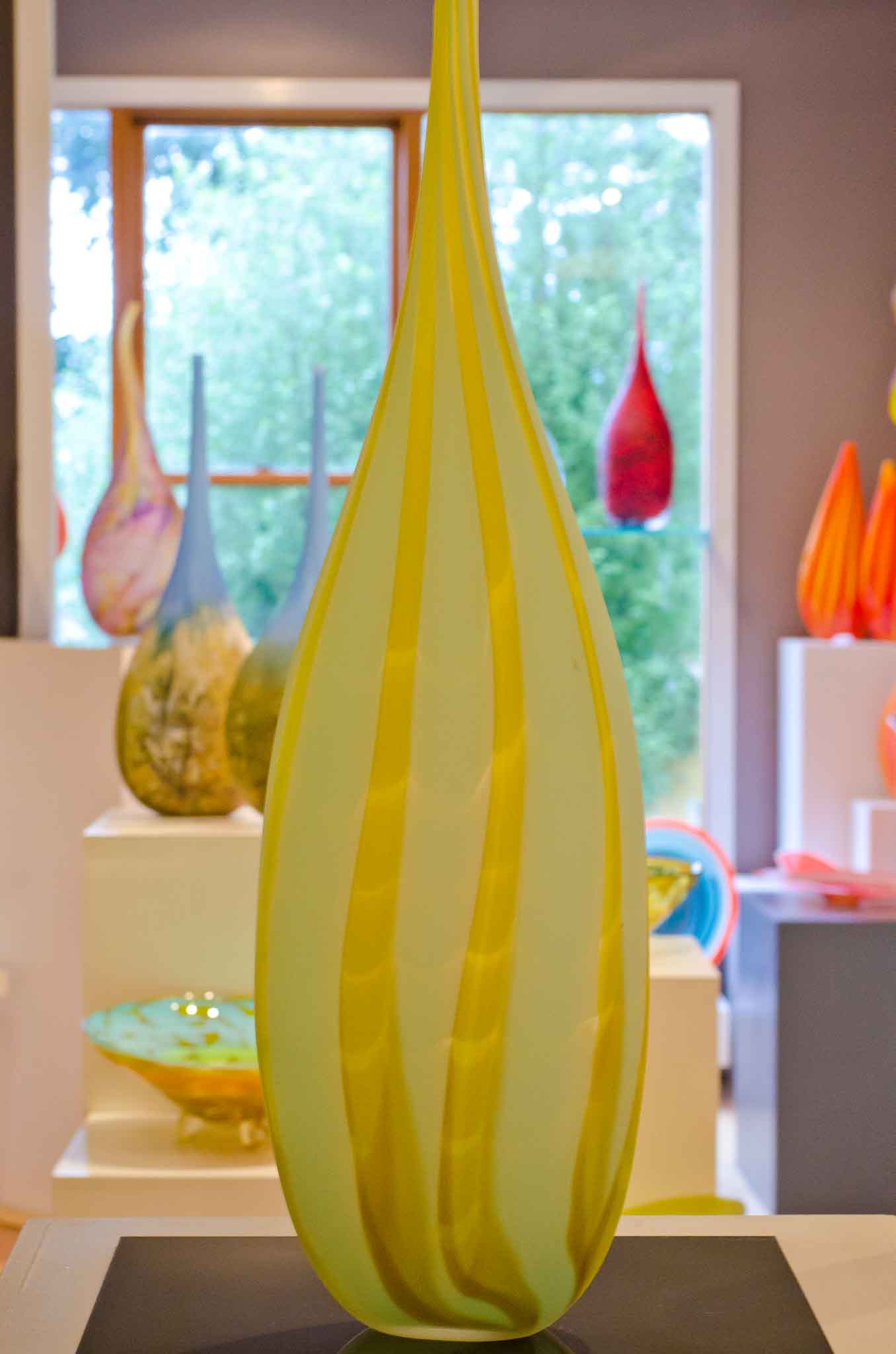 For Eileen and Grant, offering this insight is important, not merely as a point of interest, but to provide an appreciation for, and an understanding of, the art-form, and how much energy goes into creating each piece.
The peacefulness of the outdoors and the energy of the workshop come together through the homely, bright and open gallery, full of colourful and striking glassworks.  Pieces include vases, platters, various types of bottles, bowls, paperweights, and a range of decorative pieces. Many of the pieces have been created from the Gordon family who are very well-known glass engravers. They also create many custom designed pieces for customers, particularly to adorn new houses.
Throughout the year they also host events and demonstrations, including the opportunity for guests to create their own piece of glass art.  Between their work in the gallery and the blowing room, which are open to the public daily from 10am – 5pm, it is a time-consuming passion. They do, however, find time to rejuvenate, as is critically important for any artist. Eileen is a keen skier and squash player, and Grant pounds the skins as a drummer in a band. They have also travelled extensively, collecting glass artwork from across the world and hope to host an exhibition of their collection. That's how much they enjoy glassblowing – even when they're on holiday they're chasing down pieces!