Karavasil Architects is a multidisciplinary design studio specialising in architecture and interior design. They are highly process and research based in their approach, always curious and interested in creating experiential design outcomes.
​This method allows them to generate unique and individual design results in their projects which strongly resonate with their clients, their brands, the context and the land in which they are located.
Georgina Karavasil Papargiris and Vicki Karavasil lead the practice. They were both associates at some of Melbourne's most influential architecture firms and have designed and delivered award winning projects at multiple scales.
Together, they have a diverse experience in an array of architectural typologies, including single-residential, multi-residential, commercial office, workplace design, hotels, hospitality, education & health. With this rounded knowledge, they have come together to establish their own practice.
Both directors have also taught at RMIT University, leading research-based design studios at the Masters of Architecture level and mentored major project students completing their final year of studies. Their association with academia over the years has had a large influence in their work.
Each of their projects are unique – they don't replicate a signature style. The practice consciously takes a people-centric approach to design and is committed to crafting custom human environments. With a strong emphasis on design process, they take a rigorous procedural-based way of working in order to create projects which draw on layered influences and outcomes that are distinctive and meaningful. Every project is ground­ed in sol­id prin­ci­ples of function­al­i­ty, material exploration and envi­ron­men­tal sustainability to ensure the buildings are enjoyed long into the future.
Having a family holiday home in our region, Vicki & Georgina know the Mornington Peninsula well. The practice loves working in this amazing area, drawing on the diverse landscape and surrounding nature of this place.
The studio's Red Hill Residence is a project in the peninsula which adopts from its natural setting. Expressing an interpretation of the modern country home through the interior, the house is composed with a layered use of natural materials, talking back to its local context with the integration of spotted gum timber, local Australian limestone and the addition of exposed concrete surfaces.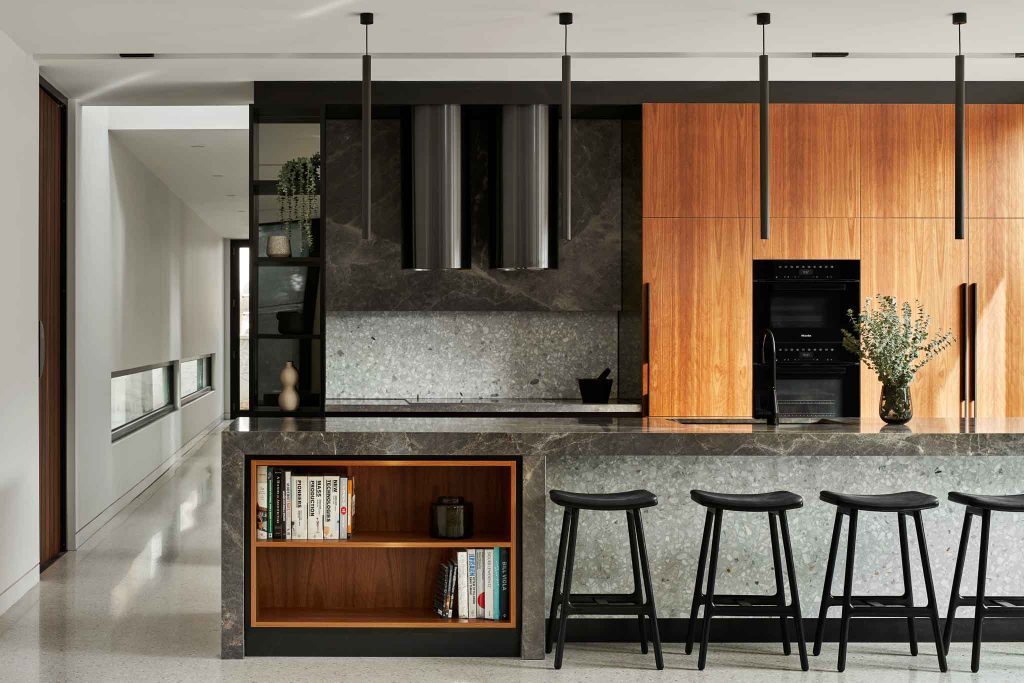 Within the living room, Australian limestone wraps the fireplace, paying homage to the local geology whilst creating a warm and comfortable living environment to unwind in front of the fire.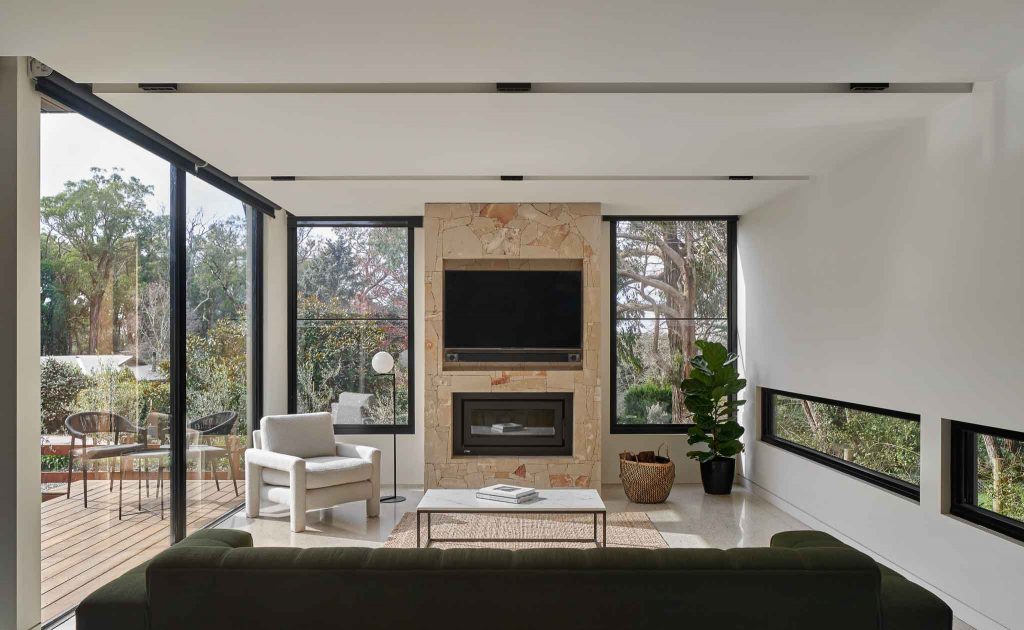 The bathrooms set a tranquil mood with the use of dark limestone surfaces, natural timber and embedded custom concrete troughs.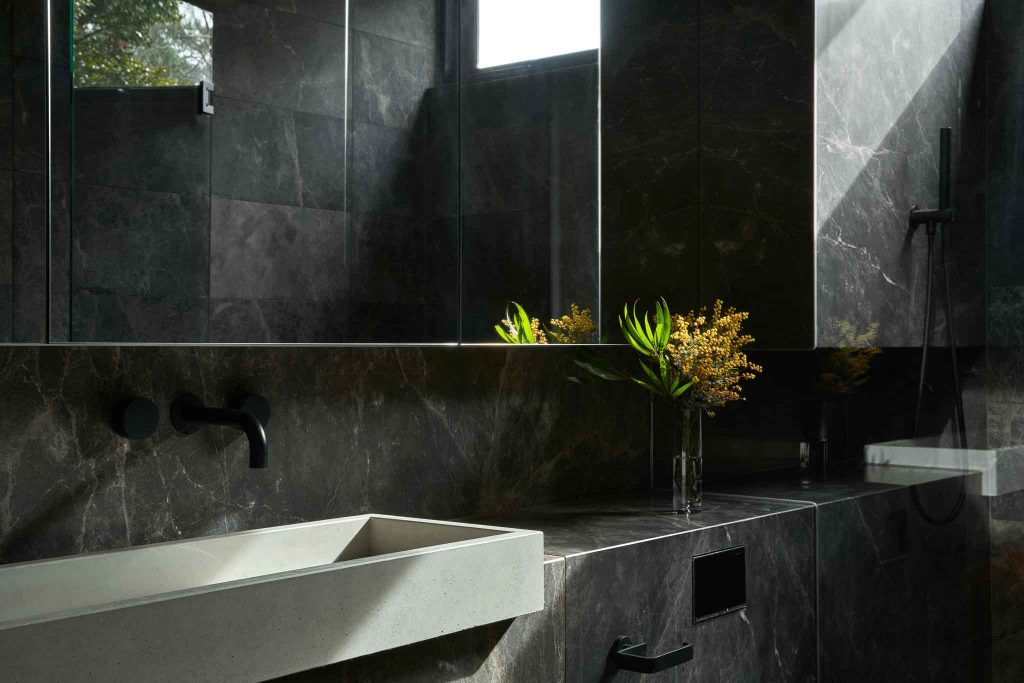 Natural light filters through carefully placed windows and skylights, illuminating the interior spaces and connecting them back into the surrounding landscape.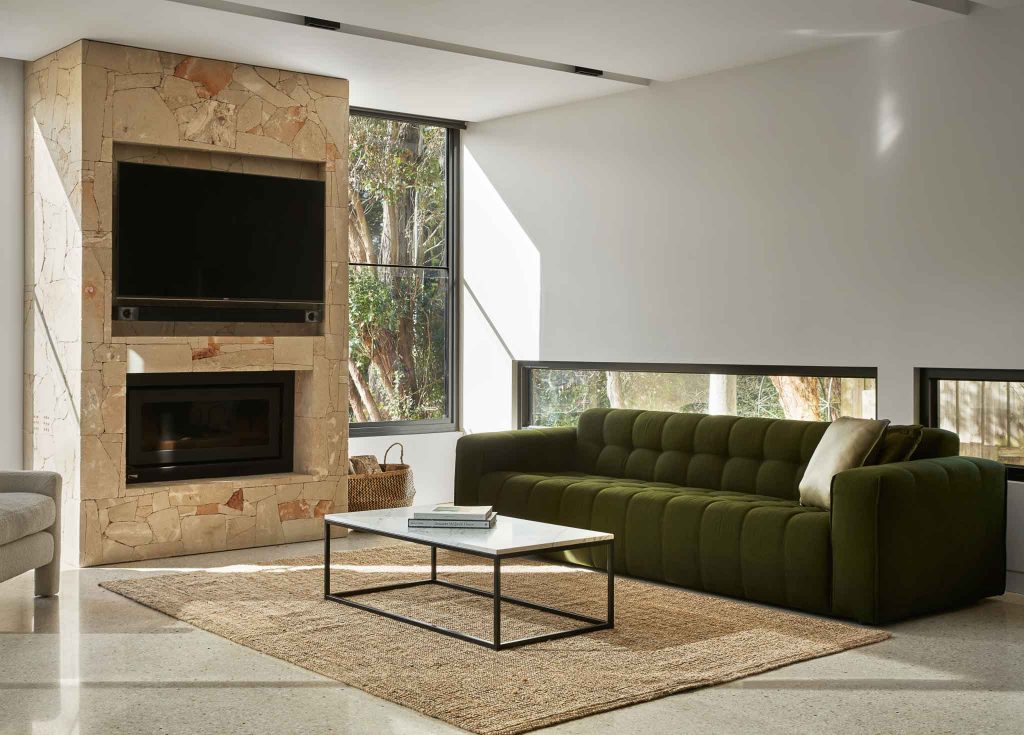 The considered approach, attention to detail and exploration of these biophilic / sensory elements give the designs a tactile and captivating quality.
They are always conscious of creating a holistic approach to the entire project; from the exterior architecture into the interiors. Concrete handles tie in with polished concrete floors and spotted gum timber dissolves from the façade to the heart of the home.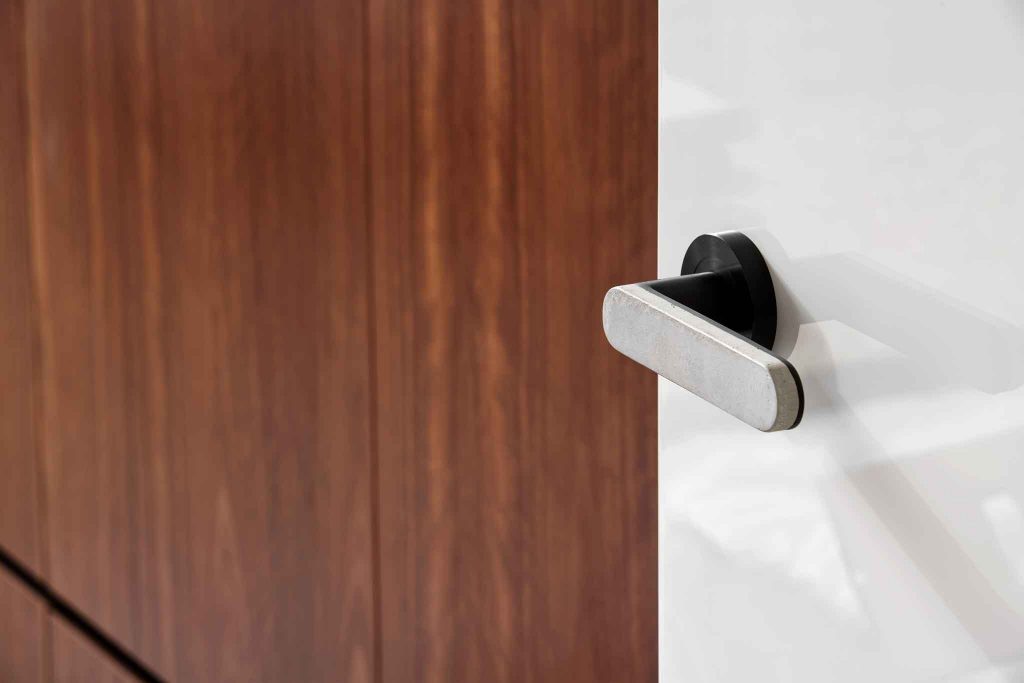 When working with Karavasil Architects, you will be taken on a collaborative journey to discover a narrative that describes your personality and needs, resulting in projects which are individual, functional and meaningful to each client.